Interview with April O'Dell, LCSW – Senior Social Worker and Field Instructor at the Colorado Mental Health Institute at Fort Logan
The following interview with April O'Dell, LCSW is part of a new interview series on OnlineMSWPrograms.com designed to help prospective MSW students learn more about field education in MSW programs. Ms. O'Dell works at the Colorado Mental Health Institute at Fort Logan, where she counsels clients suffering from severe mental illnesses and clinical disorders. Ms. O'Dell's specialization is just one example of the types of work students might complete during their field placements while enrolled in an MSW program.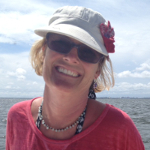 About April O'Dell, MSW, LCSW: Ms. O'Dell is a Senior Social Worker at the Colorado Mental Health Institute at Fort Logan where she has been employed since 2000. She is a licensed clinical social worker (LCSW), and earned her MSW at the University of Southern California (USC) in 1996. She also earned her Bachelor of Arts in Psychology from USC. Ms. O'Dell has worked in numerous social work settings, including the Metropolitan State Hospital (Norwalk, CA) in the forensic inpatient unit, where she examined men incompetent to stand trial, and the Los Angeles County Jail Inmate Reception Center, where she conducted mental health assessments on booking inmates. April O'Dell was compensated to participate in this interview.
[OnlineMSWPrograms.com] To start, can you give a brief overview of the Colorado Mental Health Institute at Fort Logan?
[April O'Dell] The Colorado Mental Health Institute at Fort Logan (CMHIFL) is one of two psychiatric inpatient hospitals serving clients with severe and persistent mental illness in Colorado. We are located in the Denver Metro area and serve 5 counties; all other counties in the state are funneled to CMHIP (our sister hospital). When I started here in 2000, we had 10 inpatient units and through budget cuts we are now down to four. These four units have an equal ratio of long term clients and short term clients. Clients are referred to CMHIFL from Emergency Departments and local mental health centers on either a 72 hour mental health hold for clients danger to self, others or gravely disabled, or for further hospitalization or stabilization on a Certification.
Most clients have been diagnosed with Schizophrenia, Schizoaffective Disorder, Bi-Polar Mood Disorder or Major Depression. We often also see that most clients have co-occurring issues, such as substance abuse, developmental delays, Trauma and Traumatic Brain Injury. Our goal is to stabilize clients in a Trauma Informed Environment, focusing on recovery and client focused goals to help clients move back into the community as soon as possible. We do have some long term clients where we focus mostly on barriers to discharge, such as appropriate housing etc. It is mandated by the Governor of Colorado that no client will be discharged from a state facility without a verified place to go and we are not allowed to discharge to hotels, the streets or shelters.
[OnlineMSWPrograms.com] During your time at the CMHIFL, how many students have you had the opportunity to mentor as a Field Instructor?
[April O'Dell] I have had the opportunity to provide field instruction for 5 interns from the University of Southern California's Virtual Academic Center (VAC). Our program at the hospital does have students from University of Denver as well who are on-campus students. This allows interns who are taking all of their classes online to interact with other campus students, though from a different school. Four of the students I have provided field instruction to have been second year students, and one was a first year student. I have learned that it is important for this placement that the students have some experience, which is why we only take second year or advanced standing students. In the past, all of my students have been expected to follow the same internship hours as the on-campus students.
This year with my fifth intern, her internship will last 12 months instead of a school year as they have had their students complete the first year of internship with actors online. According to the school and the students (as they have been told), the actors should be as difficult as any clients they would see in the community. I have been concerned about this, as our placements often deal with severe illnesses that even the best actors in Hollywood have a difficult time portraying. I guess I will just have to wait and see on this one.
One thing that is different between having on-campus students and online students is the participation from the school. When you are an on-campus student, the field liaison often has a solid understanding of the placement their student is in and may have met and worked with the instructor in the past. This is not [always] the case with online students from USC. Each year I have had a new liaison that is connected with the student, and each time part of our meetings is trying to educate the liaison on the placement. It seems that a lot of the liaisons have not worked or experienced this level of hospitalization and sometimes this makes it hard for them to relate to the experience.
[Note from OnlineMSWPrograms.com: Online MSW programs often have students from across the country and work with numerous agencies for field placements. In contrast, most campus-based programs cover a defined geographical area and have long standing relationships with local agencies.]
[OnlineMSWPrograms.com] What do you enjoy best about mentoring MSW students?
[April O'Dell] I have really enjoyed all of my interns for a variety of reasons. I think though overall I love the idea of giving back. I think it is amazing to provide students with the knowledge and education that you can only get from experiencing things hands-on. Here at CMHIFL, we are fortunate enough to still be working in a paper chart. This allows students to complete a full psycho-social assessment etc. I love to see the students grow in their confidence around clients and paperwork. My goal is have interns who are ready to move right into a job when they leave the internship.
[OnlineMSWPrograms.com] Do you have any advice for students considering MSW programs?
[April O'Dell] It has been a long time since I went to school, but I am always surprised at how students have a misperception of what they will be doing when they leave. I often times hear about private practices etc. I think that it is important to understand that this work can be extremely rewarding, but not financially rewarding. It also takes a lot to get a private practice up and running, so plan on working in community settings and getting your feet wet first.
[OnlineMSWPrograms.com] Field Education is a major component of MSW programs and requires a significant time commitment from students. How do you recommend the students you mentor balance field education with other responsibilities?
[April O'Dell] I have a high expectation that when you are here it is like work. I expect students to treat this with the same responsibility that they would if they were in paid employment. The clients also expect this level of commitment as students are often times their primary treatment staff even though they are an intern. I expect that life is a balance, if you have things to do outside of field placement then plan accordingly, just as I do with things going on outside of work. If there is downtime here at the placement, then it is ok to study etc, but client care comes first.
[OnlineMSWPrograms.com] What are some of the main questions and concerns students have while completing their field education?
[April O'Dell] I think that the main issue I find in mental health treatment is that often times what we talk about with clients is not something that is easily translated to what is being done in school. Clients with severe mental health issues, often times have conversations that are not reality based, so it is hard for students to go back and work on say a reflective learning tool etc. when the conversation was about a sensitive topic etc, or was not reality based. I think sometimes it is easy to feel like you are not being helpful. I have heard that concern from a lot of students. It is important for me to reiterate to them, that you have to meet the client where they are and sometimes just being present is what is the most important and letting them know you care.
[OnlineMSWPrograms.com] Can you describe the importance of self-care in social work? How do you recommend the students you mentor manage their own self-care?
[April O'Dell] Self-care is very important and I think it has even been more a focus now than when I first started. It is something that we always ask in interviewing new employees etc. I am a big proponent of self-care. I will talk about my own self-care and encourage them as well to make sure they are taking care of themselves. Living in CO most of my students have been fairly active and have had good self-care. I did have one student that did not and this did impact this person's work performance. I will constantly talk with my students about how stressful this environment is, the clients whom we serve, and how to utilize supports on the team to get through the day. We are lucky [at the CMHIFL] to have an environment where this support is available on a daily basis and I encourage students to use the other social workers as well as other team members in my absence.
Thank you April O'Dell for your time and insights!
Last updated: April 2020