Interview with Jessica Warner, LMSW – Forensic Social Worker and Field Instructor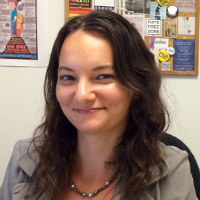 About Jessica Warner, LMSW: Jessica Warner is a Forensic Social Worker at The Legal Aid Society, where she works within the Juvenile Rights Practice, Special Litigation and Law Reform Unit. Ms. Warner and her colleagues use coalition building, impact litigation, and policy advocacy to reform the child welfare and juvenile justice systems. Prior to her current role, Ms. Warner worked for more than six years at The Legal Aid Society's Brooklyn Trial Office, where she and her colleagues supported and represented individual children in family court matters. Ms. Warner is also Co-Chair of a New York State Juvenile Justice Coalition work group in Conditions of Confinement, and is a member of the Advocacy Council for the Citizen's Committee for Children. Prior to her work at The Legal Aid Society, Ms. Warner interned, volunteered, and worked in numerous out-of-home care and corrections facilities, including Milhous Children's Center, Folsom Prison (through Friends Outside), the California Youth Authority's Heman G. Stark Youth Correctional Facility, the Office of Children and Family Services' Highland Residential Center, The Boys Republic, and the Shamrock Cottages.
Ms. Warner earned her Bachelor of Arts in 2001 from Pitzer College, where she majored in Sociology and Psychology and graduated with honors in Sociology. She completed a dual degree program at the State University of New York (SUNY) at Albany, where she earned both her MSW and a Master of Arts in Criminal Justice in 2006. Ms. Warner holds a license as an LMSW in the state of New York and has also earned a Seminar in Field Instruction (SIFI) certification from Columbia University. Jessica Warner was compensated to participate in this interview.
[OnlineMSWPrograms.com] To start, could you please give a brief overview of The Legal Aid Society, and the role of social workers in this setting?
[Jessica Warner, LMSW] The Legal Aid Society provides free legal representation to low-income New Yorkers in a variety of legal matters. We have three practices: criminal, juvenile, and civil. I work in the juvenile rights practice. In our trial offices we represent individual children in child welfare and juvenile delinquency cases, among other types of cases to a much lesser degree. However, I now work in our special litigation and law reform practice where we represent plaintiffs in class action matters and contribute to policy reform efforts. Social workers at Legal Aid work on an interdisciplinary team with attorneys, paralegals, and sometimes an investigator and/or educational specialist depending on the nature of the case.
[OnlineMSWPrograms.com] Could you elaborate on the responsibilities you have as a field instructor?
[Jessica Warner, LMSW] I have held two field instructor roles over the course of my time at Legal Aid. During my first position as a field instructor, I supervised MSW students in our trial practice, where interns worked on individual cases. In my current field instructor position, I supervise interns who work on class action lawsuits and policy issues. In both my current and previous position, my main responsibility as a field instructor was to provide weekly supervision, comment on process recordings, and evaluate the student's work. In my current position in law/policy reform, I also do a lot of editing of various documents that students have worked on. In my previous position, in our trial office, I generally met clients with the students first so that I could assist them in developing an initial assessment and plan for continued social work advocacy.
In both settings, I would assess performance based on the quality and content of process recordings and supervision sessions. In our trial office, I also based some of the assessment on file reviews and observations of the students' work. In my current position, more of the assessment is based on the quality of the written work that is done. I think the ideal dynamic between field instructor and student is exactly that, instructor and student. It is common for the relationship to look more like employee and supervisor, but that is not my preferred approach. These are students who are learning and they have to feel free to try out new approaches and be open about techniques that did not work. This way they also observe me in my work and learn that way as well.
[OnlineMSWPrograms.com] Why did you decide to become a field instructor, and what steps did you have to take to become a field instructor?
[Jessica Warner, LMSW] I decided to become a field instructor for several reasons. For one, I think it's important to give back to the discipline. I had two good field instructors in graduate school myself and I think all MSW students deserve to have a field instructor who will take the role seriously and put a great deal of thought and attention into it. Unfortunately, I have heard from many people who had bad experiences, so I always make every effort to provide students with a positive field placement experience and meaningful supervision. I have also always done some traditional and non-traditional educational work on the side of my social work practice. In the Fall of 2015 I'll be teaching a course in Social Policy for Hunter College's (CUNY) Silberman School of Social Work. I am also a co-coordinator and teacher for the People's Education Initiative, a grassroots group run exclusively by volunteers that provides vocational and academic services to women detained on Rikers Island. Being a field instructor is another way for me to be an educator and mentor to others. I enjoy the teaching aspect of field instruction and feel like it's an area of strength for me. It also seems that MSW programs are often struggling to find enough field instructors so I feel good about filling some of the need in that regard.
[OnlineMSWPrograms.com] What are some of the main questions and concerns students have when preparing for and completing their field education? How did you help your student address these concerns?
[Jessica Warner, LMSW] Most of the students I have worked with have been interested in clinical work, so questions tend to revolve around assessment, intervention, treatment planning, etc. The students I provided field instruction to in my previous position at Legal Aid (in our trial office) were first year/generalist students, who had not yet selected a track. The interns I have worked with in my current position have chosen to work with my unit because they are 2nd year macro/administrative/policy track students. These students definitely have more questions relevant to their macro level track, but many of them lack previous exposure to and experience in this field. Their questions have usually involved various aspects of management, funding and fundraising, supervisory tasks, etc. (i.e. more along the lines of administration).
I try to address students' questions with case examples and discussion, but also to get away from those topics and move back toward issues of social justice, human rights, ethics, social change, etc. I feel it is important to regularly pull students back to the original intent of the social work profession, which has never been to provide treatment, but rather to change social conditions and address injustice and inequity. I try to balance discussion during supervision between the two areas.
The move toward therapeutic work within the social work profession is relatively new and in my opinion can be very problematic. I consider therapy important, but in my opinion, the social work profession should return to its focus on social reform (reform of the societal conditions that lead to oppression, injustice, and inequity).
[OnlineMSWPrograms.com] What did you enjoy the most about mentoring your MSW students?
[Jessica Warner, LMSW] As I mentioned before, I really enjoy the teaching aspect more than the supervisory aspect of this role. It feels like one-on-one teaching, which is something that isn't easy to find/do elsewhere. I particularly like to work with students to build their critical thinking skills and their ability to view aspects of our work from a social justice and human rights perspective. It's also just fun to work with someone who is entering the social work field because I mostly work with attorneys and paralegals who come from very different perspectives and training.
[OnlineMSWPrograms.com] Field education is a major component of MSW programs and requires a significant time commitment from students. How do you recommend students balance field education with other responsibilities?
[Jessica Warner, LMSW] This can be really tough, but I think students have to make it a priority, and that is done by recognizing how important the field work is in preparing for work as an employee post-graduation. I have always noticed that there is a huge disconnect between course work and field work in social work school, so I would encourage students to try to blend the two more (bring field work examples into class discussions and bring class work into supervision). Students can also usually complete some course assignments by selecting a topic that they also work on in the field.
[OnlineMSWPrograms.com] Can you describe the importance of self-care in social work? How do you recommend students manage their own self-care, both during their MSW program and beyond?
[Jessica Warner, LMSW] This is hugely important, not just for us but also for our clients, colleagues, loved ones, etc. If we are not taking care of ourselves, we will not do our best work and the work will carry over into our relationships outside of the workplace. I think everyone has to find what works for them, because different approaches and techniques work best for different people. The most important thing is to allot time for this and explore what works best for you. I encourage social workers to advocate for organizational time for self care as well. Fortunately, some social work schools prepare students for this important and often neglected aspect of social work as well. But self-care always has to be individualized.
Thank you Ms. Warner for your time and insights into social work field education.
Last updated: April 2020