Interview with Buck Black, LCSW on Child and Family Social Work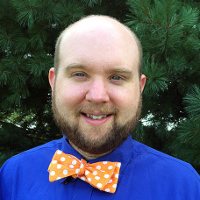 About Buck Black, LCSW: Mr. Black is in private practice at Heartland Clinic in Lafayette Indiana. Prior to opening his private practice, he worked for two community mental health agencies where he was a therapist. He has clinical experience helping adolescents and adults with a wide range of problems including relationship issues, marital challenges, substance abuse, anger management, anxiety, depression, and a variety of sexual problems, including concerns about sexual orientation, gender identity, sex offending, and sexual compulsivity (aka sex addiction). Mr. Black provides therapy to individuals, couples, and families in his office, over the phone, and through video conferencing. He also has a specialty of working with truck drivers.
Mr. Black's educational background includes a Master's degree in Social Work (MSW) from Indiana University, which he received in 2005. He earned his Bachelor's degree in 2003 from Purdue University (Lafayette, Indiana campus), where he double majored in Psychology and Sociology. He also earned a minor in Computer Technology. In addition, he has trained on a variety of clinical subjects including anger management, anxiety, couples counseling, codependency, personality disorders, PTSD, and various types of sexual issues. Buck Black was compensated to participate in this interview.
[OnlineMSWPrograms.com] What types of clients do you usually work with in your private practice, and what kinds of challenges do they face? How do you support them through these challenges?
[Buck Black, LCSW] I specialize in working with people who have stress, anger, and relationship concerns. My clients are mostly adults ranging from 25 to 60 years of age, but I often see people as young as 12 years of age. Depending on the client's needs, I do individual, couples, and family therapy. For many couples who need to improve their relationship, I will do individual therapy first and then bring them together as a couple to further work on the presenting problems. Sometimes, it is apparent that the couple is not ready for couples therapy due to high levels of emotions or difficulty discussing feelings in front of their partner.
I support my clients by listening to them. Often, the client needs to be able to discuss the stresses, fears, concerns, and their successes. I teach my clients various coping skills and life philosophies to help with their situations. I also encourage my clients to make as many lifestyle changes as possible, which will set the stage for more success in their personal, family, and professional lives. I also stress that eating as healthy as possible and getting physical activity improves mood. When a client learns to focus on the positives in their lives, develops a thinking pattern that serves them, and implements other positive lifestyle changes, but still has problems with their mood, they are referred for medication. Some of my clients clearly need medications, such as antidepressants to help them have success in their life. I refer to several doctors who will prescribe in these situations.
In private practice, clients are often higher functioning compared to community mental health agencies. This does not have to be the case, but this often occurs. My practice ranges from people who are homeless or near homeless to those who are wealthy business owners.
[OnlineMSWPrograms.com] As the founder of Trucker Therapy, you serve a very unique and underserved population. What specific challenges do truckers face as a result of their job, and how do you help them manage the stressors their job brings to their relationships? How did you first learn about the emotional/mental health needs of truckers?
[Buck Black, LCSW] Truckers face isolation for days, if not weeks on end. They are also involved in long distance relationships due to the fact that they are on the road for such an extended time. Relationships are so important for all of us to stay emotionally healthy. If truckers are not aware of this fact, or if they ignore it, their mood and emotions will deteriorate. As a result, truckers often have depression, stress, and relationship problems. Not only does the isolation cause problems, but the sedentary lifestyle, demanding schedules, the fact that much of the public does not like truck drivers, and strict regulations imposed upon truckers make life even more difficult. The "hours of service" is a set of strict regulations that limits the number of hours a truck driver can drive, yet often causes a great deal of stress due to the fact that there is often a lack of safe truck parking and lack of time to deliver the load on schedule.
It is very important to include the driver's family in these consultations. If I were to only focus on the driver, this would limit the client's success. As with any other types of clients, it is important to help the family system find better ways to function, teach communication skills, and help the family to work through the unique difficulties they are experiencing.
Aside from the importance of including family in the sessions, it is important to help the client to find ways to think more positively. If the client has a great deal of negative thinking, their mood is going to get worse over time. It is so important for the client to find positives in their life, replace negative thinking with more positive thinking, and develop new and healthier ways to think about their situation. There is also a need to help the client to find ways to relax, such as finding a hobby that they can do while in the truck or even practice relaxation skills that work for them.
The mind-body connection should not be overlooked. Truckers are often challenged with getting enough exercise and having poor diets. I help my clients by educating them about the mind-body connection and encouraging them to eat more whole foods and to move more. Many times, it is as simple as activating the step counter on their smart phone and eating a few more fruits and vegetables. Many of my trucker clients already have refrigerators in their trucks or find creative ways to eat fresher food if a refrigerator is not an option for them.
I help truck drivers by having them consult with me via phone and videoconference. Truckers usually cannot make office visits due to the fact that they are away from home for long periods of time. Delivering services in this mode helps truckers and their families to improve themselves. Without these distance services, the clients usually go without services or have several weeks between visits, which is not very effective.
When I first became a therapist ten years ago, I had a great deal of truck drivers as clients. I quickly learned that they would either participate in therapy on a monthly basis or less, or simply not return to therapy due to this career. I had a few truckers who took weeks off the road in order to come to therapy. Neither of these scenarios was helpful for my clients. As a result of seeing these problems, I decided that I needed to use technology to reach out to my trucker clients.
The methods I use to help truck drivers and their families are very similar to how I help members of the general population who come to my office. I often give homework to my clients and encourage them to discuss their concerns and successes.
It must be pointed out that if a client has a severe problem, such as feelings of wanting to hurt themselves or others, or is in a frequent state of crisis, they need to use face-to-face therapy services. I am limited on how I can help over the phone or videoconference when a situation turns dire.
Big trucks have always fascinated me. I enjoy talking with the drivers and hearing about the profession!
[OnlineMSWPrograms.com] According to your website, you also specialize in anger management, anxiety, and sex therapy. How did you obtain your expertise in these areas—was it through the classes you took during your MSW program, or from professional experiences and continuing education post-graduation?
[Buck Black, LCSW] My MSW program at Indiana University provided the base information for anger management, anxiety, couples therapy, and related areas. I complete about 50 hours of continuing education per year on these topics, which has helped me to learn more detail. I often listen to audio books as I drive and exercise, which helps me to learn more and keep current in the field. In regards to sex therapy, I learned a great deal as an intern when I worked with sex offenders. I also because an AASECT Certified Sex Therapist after completing their extensive training program. I have certainly learned a great deal from professional services, as well.
[OnlineMSWPrograms.com] What are the most challenging aspects of your job? How do you recommend students who wish to work as child and family social workers prepare themselves to face these challenges and hardships?
[Buck Black, LCSW] The most challenging aspects of my career would include limiting my work hours to those I have set. There are always people in need and it can be a real challenge to see everyone in a timely manner without overworking one's self. It is also difficult when parents want the therapist to fix the child, instead of participating in therapy. It is the therapist's responsibility to help the parent to learn better parenting skills and work with the child, instead of looking at the child as the sole problem. Not all parents are receptive to this and may become angry or not have the "buy in" that would make therapy even more helpful. If there are divorced parents involved, this can become even more difficult.
I volunteered at a crisis center and learned a great deal. I advise anyone who wants to get into the mental health field to go through the crisis center training and get some experience talking with people who are in distress, simply need to talk, are in need of finding information for financial assistance, or being talked down from a suicidal situation. Remember, most crisis calls are not suicide calls.
Find a placement that is in the field you think you wish to work in. Do not be too selective because it is good to be exposed to a variety of populations and issues. You may find a new passion that you did not know you had. If you do several placements, this can expose you to many different client populations, which would help you to find the field in which you would like to work.
I recommend that students take as many psychology and counseling classes as possible, even if they feel they do not have any interest. It is very important to have an understanding of addiction. A significant percentage of clients who will come in for mental health concerns will also have addiction. If the therapist does not have an understanding of addiction, they are doing their clients a disservice.
[OnlineMSWPrograms.com] What do you feel are the benefits and drawbacks of running your own private practice as a LCSW?
[Buck Black, LCSW]
The Benefits:
Set your own hours
Work as little or as much as your desire
Choose the population you would like to work with
Potential for higher income
You can be creative in the ways that you deliver services
You can change specializations as you mature in your practice
You can offer more than just therapy: work shops, critical incident debriefing, and other creative trainings
You can go to conferences (for continuing education) in relaxing and exotic places, if you choose; it's a great way to mix business and pleasure
Drawbacks:
It may be difficult to keep your schedule full
You will have to do your own administrative duties, unless you hire someone to do them for you
No paid vacation, no retirement benefits, and less stability compared to agency work. You will need to develop a business plan and have an accountant, financial planner for retirement and investments, and possibly other professionals in your life.
Since you are your own boss, you may have difficulty staying on task
Private practice is a business and you have the duty to help the community. It can be difficult to find the right balance of how much you give to the community while still earning enough to make a good living.
If you decide to accept insurance, it will add to the administrative requirements and often interfere with the proper care of clients.
I recommend reading books about private practice and interviewing people in private practice. It is good to learn about business, but I believe that earning a business degree is not needed and would be too costly in both time and money. Instead, hire professionals to help you and read as many books on the matter as you can. I consulted with a therapist who has a successful private practice and worked with him in a coaching format. He charged for his services, just as any therapist or coach would, and his services were well worth it.
I recommend that those who wish to do private practice start in an agency where they will learn a great deal from many different clinicians, be supervised closely, and be exposed to a wide array of clinical concerns. Once the clinician has earned his or her license and experience, private practice would be the next step. When the clinician is in the agency, relationships with other professionals can be built. This will make the transition to private practice much easier, given that the clinician will already have a good reputation in the community.
It takes about one year to build a private practice, according to anyone who is knowledgeable in this matter. I did not want to believe this and worked very hard to build my clientele to a mature practice in less than a year. It resulted in a great deal of stress and, although I was reasonably busy, it took at least a year before I felt my practice was steady. If I could do it over again, I would have put less pressure on myself.
Remember, as long as you provide a valuable service to the community and conduct yourself in a professional manner, your practice will thrive. Many therapists do not want to run a business and a practice. For therapists in this situation, agency work is often a better fit. The key is to have happiness in your career and help people.
Thank you Mr. Black for your time and insights into child and family social work.
Last updated: April 2020