Interview with Chase Finney, ASW on Criminal Justice Social Work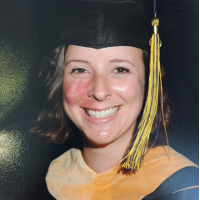 About Chase Finney, ASW: Ms. Finney is a Clinical Social Worker and Psychiatric Housing Coordinator at Jail Psychiatric Services in San Francisco, where she provides therapeutic services, conducts psychosocial assessments, and coordinates programming in the jail for inmates who have a severe mental illness.
Ms. Finney earned her undergraduate degree from the University of Michigan, where she studied Interdisciplinary Social Science. After graduating from college, she worked at a juvenile detention facility in Maryland as an assistant teacher and also worked at their Transition Center, helping to prepare students to reenter their schools/communities. In 2008 she relocated to the Bay Area and worked as a Program Coordinator and College Counselor at 10,000 Degrees, an education non-profit. During this time, she also volunteered at San Quentin State Prison with a reentry program, where she met with men who were preparing to parole and assisted them with post-release plans (i.e. housing resources, resume writing, applying for financial aid).
Ms. Finney earned her MSW with a concentration in Community Mental Health from UC Berkeley in 2013. During her graduate studies, she completed her first year internship at Berkeley Mental Health, and her second year internship at a mental health clinic called Citywide Forensics in San Francisco. She is registered as an Associate Clinical Social Worker with the California Board of Behavioral Sciences and is currently completing her hours towards licensure. Chase Finney was compensated to participate in this interview.
[OnlineMSWPrograms.com] Can you please describe your core responsibilities as a Clinical Social Worker and Psychiatric Housing Coordinator at Jail Psychiatric Services for San Francisco County Jail?
[Chase Finney, ASW] For the first year and a half, I worked primarily at the intake jail, conducting brief risk assessments when individuals first entered custody. I triaged referrals and determined if clients required special housing and/or psychiatric services in the jail (i.e. psychiatric housing, suicide watch housing, individual therapy, medication evaluations). I also determined if clients required a 5150 (involuntary hospitalization).
For the past couple months, I have had a new position at Jail Psychiatric Services as a Psychiatric Housing Coordinator. Psychiatric Housing is for inmates who have a severe mental illness. It is a milieu setting and there is programming available to clients, including group therapy, arts workshops, and regular access to psychiatric staff. As the coordinator, I decide which clients are appropriate for psychiatric housing and manage the waitlist, develop programming for the clients, work with and supervise a bachelor's level counselor, and serve as the primary therapist for the 32 men who are housed there.
There are a number of therapeutic groups available to clients, and we are often adding groups using client input. I coordinate with other JPS therapists and outside volunteers to implement groups and activities. We now have a meditation and yoga group facilitated by the San Francisco Zen Center. I co-facilitate a creative writing group with an intern. Because it is a fairly transient setting (average length of stay is probably 1-2 months), I mostly use brief therapy interventions and assist clients in developing coping skills while in the jail. Most clients are dually diagnosed and are facing multiple mental, emotional, and behavioral challenges.
For the majority of clients their legal situation is unclear or not yet settled, so a lot of our work together focuses on coping with the anxiety around this. I often use motivational interviewing techniques when addressing substance abuse issues. I also assist clients in developing reentry plans by providing them with information on resources, coordinating with their community providers, and making appropriate referrals.
[OnlineMSWPrograms.com] Could you elaborate on the structure of social work services within Jail Psychiatric Services at SF County Jail?
[Chase Finney, ASW] Jail Psychiatric Services is a staff of approximately 25 mental health professionals including psychiatrists, psychologists, therapists (MFTs), social workers, and bachelor's level counselors. The San Francisco County Jail consists of four different facilities, and each facility has a JPS site manager. The majority of staff all have the same position/title of "Therapist," which includes psychologists, MFTs, and MSWs. We are all trained to conduct initial mental status evaluations and respond to referrals in our facility as necessary. Some staff work specifically in the psychiatric housing units. Some staff will also provide therapy to clients who are not in psychiatric housing, but who have less acute mental health issues (i.e. first arrest, booked on serious charges, etc.). We all work closely with the Sheriff's Department and medical staff. For example, most of our referrals come from nurses, and we will sometimes collaborate with the Sheriff's Department to create behavioral plans for problematic clients.
As far as external organizations, many of our clients receive mental health and case management services in the community, so we will notify clients' community providers (therapists/case managers/psychiatrists) when they are in custody, will provide them with updates on clients' treatment, and will coordinate with them on post-release planning. If a client is interested in initiating treatment in the community upon release, we can sometimes make referrals. We can also coordinate with their lawyers to refer them to diversion programs.
[OnlineMSWPrograms.com] What motivated you to work closely with incarcerated individuals, and what convinced you to go to graduate school to earn your MSW? How would you say your MSW has expanded your capabilities to help imprisoned populations?
[Chase Finney, ASW] I initially became interested in working with incarcerated individuals through a course I took on the prison system as an undergraduate. As part of the course, I facilitated a theater workshop at a prison, which was an inspiring and formative experience. It was powerful to facilitate creative expression in an environment that can be so stifling. The men in the theater workshop had the opportunity, if only for an hour a week, to pretend to be someone else, to in some way mentally escape the confines of prison. This experience also helped me realize there was an enormous group of people with so many unaddressed needs, and I felt an urgency to work with this group of people.
I thought about teaching, but felt more drawn to counseling, and eventually decided to obtain my MSW to develop clinical skills and learn more about psychopathology (since so many incarcerated individuals have a mental illness). I would say my graduate training definitely equipped me with skills in the areas of assessment and diagnosis. I would have liked to further develop my clinical skills and learn more about various therapeutic interventions, but UC Berkeley's MSW program is fairly generalist. I took a couple courses on direct practice, but the philosophy of that program is that the development of clinical skills happens through the internships.
I did take one course on "Forensic Social Work" which focused mostly on theory and systemic issues affecting incarcerated individuals. It definitely helped me to broaden my understanding of the population and provided more context to the work. I actually now participate in a consultation group facilitated by the professor of that course, which continues to be a source of professional development and collegial support. My internship with Citywide Forensics was particularly helpful in preparing me for forensic social work. I worked with individuals participating in Behavioral Health Court, a program that diverts individuals with a severe mental illness away from the criminal justice system and connects them with treatment in the community. I saw the many challenges people face coming out of the criminal justice system and how the lack of resources, particularly housing, contributes to recidivism. I think that has helped me in my current job to have more empathy for clients when they return to jail. Obtaining a MSW gave me access to the types of jobs I was interested in and provided an educational foundation, but I still have so much to learn, and I think the field of social work is one that requires lifelong learning.
[OnlineMSWPrograms.com] What have been some of your most rewarding experiences as a psychiatric and criminal justice social worker? On the other hand, what have been some of the most challenging aspects of your job, and how did you manage/overcome these challenges?
[Chase Finney, ASW] Generally, I'm seeing people when they are at their worst, when they are experiencing a great deal of suffering and need someone to take that out on, which can be difficult to hold and return to each day. The criminal justice system is flawed in so many ways, and it can sometimes feel like I'm a part of that system that is failing people, rather than working against it. But there are definitely moments when I feel of use, even if it's simply treating someone like a human being or listening to someone who has never really been listened to. Those are the moments that feel the most meaningful–when in such a harsh and ugly environment whose purpose is to dehumanize and punish, a client feels seen and heard. I'm still figuring out how to manage the challenging aspects of the work. A strong support system is crucial. I really rely on my colleagues, supervisors, and even other social work friends in different fields for guidance and emotional support.
[OnlineMSWPrograms.com] For MSW students who are interested in working in criminal justice/forensic social work, what advice can you give them about optimally preparing for this field while pursuing their degree?
[Chase Finney, ASW] As I mentioned above, UC Berkeley offered a class on Forensic Social Work, which was great. Inevitably, working in this field means working with individuals who have a mental illness, so it is definitely important to study psychopathology and try to further understand the experience of mental illness. I think it is ideal to have a field placement either in a correctional institution or with individuals who have been involved in the criminal justice system. The state hospitals are another forensic/psychiatric setting. There are a lot of volunteer opportunities in the Bay Area, particularly at San Quentin State Prison, but I know it can be difficult to find volunteer opportunities in correctional settings in other parts of the state and country. It is also always a good idea to talk to professionals in the field; I did lots of informational interviews while I was in graduate school. But I think the best way to prepare (both emotionally and practically) is direct practice experience because our clients are our best teachers. Correctional facilities are also incredibly harsh environments to work in, so it is important to assess that part of the experience as well.
[OnlineMSWPrograms.com] Could you please explain the distinction between psychiatric social work and clinical social work?
[Chase Finney, ASW] My understanding is that clinical social work is a broader term that encompasses any social work that involves direct practice work with individuals/groups/families. Some might say that "clinical" social work is more closely aligned with traditional psychotherapy, but we now have the term "clinical case manager" since case management involves a great deal of clinical work as well. Psychiatric social work is a type of clinical social work, typically with individuals who have a severe mental illness.
Thank you Ms. Finney for your time and insights into criminal justice and forensic social work.
Last updated: April 2020