Interview with Donna Maglio, LCSW on Clinical Social Work
By Kaitlin Louie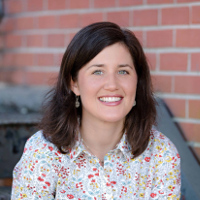 About Donna Maglio, LCSW: Ms. Maglio is a licensed clinical social worker and owner of Trinity Psychotherapy, LLC, her private practice based in Virginia. In her private practice, Ms. Maglio works with children, adults, families, and current and former military service members, offering both traditional office sessions and Equine Assisted Psychotherapy (EAP).
Ms. Maglio received her Bachelors in Psychology from Rutgers University in 2001, and earned her MSW from the University of Pennsylvania in 2003. She began her career working as a school social worker in the New Jersey public school system from 2003-2007. In 2006, she became licensed in New Jersey as a licensed clinical social worker (LCSW) and also earned her certification in Equine Assisted Psychotherapy and Learning from the Equine Assisted Growth and Learning Association.
During her time as a school social worker, Ms. Maglio also started her private practice part-time, and in 2007 she went full-time into private practice. In 2008, she began working with the military population, initially through equine assisted psychotherapy in New Jersey. From 2009-2012, she worked for the Virginia Wounded Warrior Program, Northern Region. During this time, she also had a private practice in Virginia that served both the military and civilian populations through office sessions and equine assisted psychotherapy. In January 2014, she moved to North Carolina to take an assignment as an embedded social worker for the USMC at Camp Lejeune. Donna Maglio was compensated to participate in this interview.
[OnlineMSWPrograms.com] What types of clients do you usually work with in your private practice, and what kinds of challenges do they face? How do you support your clients through these challenges?
[Donna Maglio, LCSW] I work with children, adolescents, adults, couples and families in both individual and group sessions. I have many clinical interests and am comfortable working with a diverse client population. I specialize in working with children of all ages and enjoy helping parents and teachers find alternative solutions to academic and behavioral challenges. I also specialize in working with the military and their families, especially with manipulating the various transitions that may occur.
The following are some common areas addressed in treatment: anxiety, depression, bipolar, post traumatic stress disorder, traumatic brain injury, oppositional defiant disorder, anger management, autism spectrum disorder, attention deficit/hyperactivity disorder, learning disabilities, self destructive behaviors, parenting skills, social skills training and sexuality. I support my clients by encouraging them to look at the whole picture and tend to be very solution-focused in my style. I believe people have the capacity to grow, change, and adapt. My treatment methods are based on the individual needs of each person and I incorporate a variety of therapeutic modalities, including insight-oriented, cognitive-behavioral, and experiential. I also value the importance of trying to achieve a healthy life balance, and will encourage a holistic approach through proper nutrition, sleep and exercise.
[OnlineMSWPrograms.com] According to your website, trinitypsychotherapy.com, you are not only a LCSW, but also certified by the Equine Assisted Growth & Learning Association (EAGALA) , and offer equine assisted psychotherapy in addition to regular, in-office therapy. How do you feel equine assisted psychotherapy benefits clients, and how do these benefits differ from and/or complement traditional therapeutic methods?
[Donna Maglio, LCSW] Equine assisted psychotherapy (EAP) uses horses experientially for emotional growth and life-skills learning in humans, as well as for organizational team building and leadership development. It is a collaborative approach between a licensed mental health professional and an equine specialist working with clients and horses to address specific goals. No prior experience with horses is necessary, as the focus of EAP is not riding or horsemanship, and all of the activities are done on the ground. The activities serve as metaphors for the issues or challenges that the clients want to work on.
EAP can be a great alternative approach to traditional office sessions, or can also be used to enhance office sessions. Since EAP is an experiential modality*, clients have reported that one session in the arena can be equivalent to about three sessions in an office. By engaging clients both physically and emotionally, the effect can be much more profound and apparent.
As a therapist, I do a lot less talking during EAP sessions. It's important to let the process play out and let the horses do the work with the clients. Sometimes we are observing the herd loose in the arena, and other times clients are grooming the horses and noticing what might come up for them during this process. One activity is called "Life's Little Obstacles" and it can be used with individuals, couples, groups and families. With this activity, a single cross-rail jump is set up in the middle of the arena and a few horses are loosely milling about. Typically the client will name what the obstacle represents, such as a goal or issue they are experiencing. The client's task is to pick a horse from the herd and get the horse to go over the jump without talking, touching the horse or bribing it with food. These are the only three rules and any of the other tools in the "community," or arena, can be used, such as cones, poles, buckets, ropes, etc.
We do this activity all of the time and I've never seen it done the same way twice, because the way that a person completes that task is unique to them, and it also gives us information on how they typically approach life. If they tend to be more assertive or passive in the arena with the task at hand, that is usually how they approach tasks or problems in real life. And there is no right or wrong way, there is no success or failure. They may spend the whole session trying to get the horse over the jump and never do it, but they may walk away from that session with great insight about how they approach problems and a way to now do it differently. The most important thing to remember is that it is not really about the activity at all–accomplishing the task does not equate to "success"–but what is most important is how the client's approach to the task relates to their daily life and what they will take with them from the arena to make a positive change.
[OnlineMSWPrograms.com] How did you get interested in Equine Assisted Psychotherapy? Can EAP be the core of someone's treatment plan, or is it more of a supplement?
[Donna Maglio, LCSW] I believe it can be both. The EAGALA model endorses EAP as a short-term, brief approach where it is the sole modality. I have found over the years, especially with my military clients, that some people will need to process what they did in the arena while sitting down in my office a few days later, before they are ready to return to the arena, especially those who may have traumatic brain injury. Since the model is experiential, the emotion that comes up for people can be really powerful and overwhelming at times, especially if this is the first time they are truly addressing their treatment issues. Anytime we are put in a new situation that forces us outside of our comfort zone, such as working in an arena with a 1200lb animal, and we must "think outside of the box," it can be really difficult and frustrating, but it can also be our best chance at making real and positive growth and change in our lives.
My clients' interests and goals will help determine if I use EAP as the sole modality of therapy or as an adjunct. I also have other therapists contact me because they may be stuck with a particular client and they want to see if EAP would be a good option for them. The therapist will either accompany us in the arena or will be in touch for follow up by phone.
I got interested in EAP because my father is a horse trainer and I grew up on a horse farm in New Jersey. I had been riding and training horses my whole life, but they were always separate from my professional career. I learned about EAP and it was the perfect way to combine my two passions of horses and counseling. Initially, we worked with school-aged children and families. In 2008, I was contacted by a non-profit who was offering a full day workshop in Brooklyn, New York for combat veterans transitioning out of the military and they wanted to offer EAP to all of the participants. I had the opportunity to design the program and it was a great success. Since my dad is a former Marine, it just made sense to start using EAP with the military population as well and it evolved from there.
[OnlineMSWPrograms.com] What do you feel are the benefits and drawbacks of running your own private practice as a LCSW? How does the experience of managing your own private practice differ from your experiences working as a military and school social worker for larger organizations over the course of your career?
[Donna Maglio, LCSW] For me, the benefits of having my own practice gives me the flexibility to set my own hours and fees, offer modalities such as EAP that might not otherwise be feasible, and be selective about which client populations I feel I am best suited to serve. It also gives me the opportunity to expand beyond the direct client sessions, by presenting workshops, giving presentations, writing articles, and guest lecturing in graduate classes.
One drawback has been financial, in that you never really know how much income you will earn at the end of each week due to inclement weather or client cancellations or no shows. Another drawback is potential isolation from colleagues depending on where your office is situated, so it is important to make an effort to stay connected through networking events or peer supervision.
Two very important aspects I have found are good organization and setting healthy boundaries with clients. When having a private practice, one needs to be especially diligent about certain administrative procedures that are typically handled by an office manager or are already in place by the larger agency/organization where you are working, such as making sure the proper intake paperwork has been both created and administered, charts are stored properly and you are up to date on various laws such as privacy laws, or laws specific to the state in which you are practicing, such as parental rights when parents are separating or divorced if you work with children.
If you accept insurance, you will need to stay up to date on billing procedures and understand how to submit claims to insurance companies, and make sure you allow time to follow up on these claims so that you will get paid. You will need to develop a book keeping method to keep track of your income, business expenses, mileage, etc, and learn how to file quarterly taxes or hire an accountant to assist.
You will also need to decide how you will handle emergencies. I let my clients know up front that I am not available 24/7. My voice mail states that "if this is an emergency, please hang up and dial 911 or go to your local emergency room." In addition to this, in my intake paperwork, I clearly state that if clients need to contact me in between scheduled sessions, they may leave a voice mail and I will do my best to return the call within 24 hours or less. In the event of an emergency, they are not to leave a voice mail, email or text message. You will need to determine if you will allow clients to email and text with you. If you are going to allow clients to email with you, you will need to inform them that email is not a confidential means of communication by including a statement about this at the bottom of your email message.
I find clients through word of mouth, my website, advertising on psychologytoday.com and going to professional networking events. At the start of my private practice, I made a point of personally introducing myself to key people in the community, such as doctors and school counselors, because they make a lot of mental health referrals and I wanted to make sure they had my business cards. Now, I will send business cards out about once a year to the local doctors, guidance counselors and child study teams. Since I worked in the schools, I also receive referrals from teachers and guidance counselors with whom I previously worked. So, a professional, informative website and business cards are essential to growing a private practice. When the opportunity arises, I also give presentations in the community on various topics like social skills or parenting styles that will also generate referrals. For those who may not be comfortable speaking in larger groups, check out Toastmasters as a way to improve your public speaking skills. Once you get established, and especially if you are offering something unique like EAP, then word of mouth is going to be a crucial component as well.
[OnlineMSWPrograms.com] For MSW students who wish to eventually set up their own private practice as a LCSW, is there anything they can do while they are still in school that will help with the process once they are licensed?
[Donna Maglio, LCSW] Taking a basic business and marketing class would definitely be helpful, whether in school, online or in the community. I wish I had taken a business class when I was earning my MSW, but at the time it just didn't register as something I needed to think about while I was trying to meet all of my other requirements to graduate. However, there is so much available in the community, and much of it is low cost or even free. I met with an attorney and an accountant during my set up to make sure I was covering all of my bases and both offered free one hour consultations for the first meeting. I also took a free class offered in my community for small business owners that provided all of the nuts and bolts on how to get started. I think once people figure out that they want to do private practice, and they have gained enough clinical experience to do so, the resources are there, you just have to utilize them.
You will also need to decide if you want to form an LLC or other type of corporation. I consulted a lot in the beginning with my colleagues in private practice so that I knew how to obtain an EIN number, register my business both federally and locally, etc. I also read several books on basic marketing for small business owners. Finding a mentor to help guide you with developing the proper paperwork, record keeping, etc is valuable. I had several assist me when I was starting out and I have helped many new therapists do the same.
The US Small Business Administration (SBA) is a good place to start and each state has its own chapter. In NJ, it was called the Small Business Development Center and each county had its own chapter.
Something else to keep in mind–each time I moved to a new state, I had to close my business in one state and register it again in the next state.
[OnlineMSWPrograms.com] How can social workers in private practice who work mainly with individuals and families branch out into mezzo and macro social work? Do they need additional training to do so?
[Donna Maglio, LCSW] I think it really just depends on a person's interests and level of motivation. This is the reason I love being a social worker; it offers me the opportunity to satisfy the many different professional areas that I am drawn to. In addition to the direct clinical sessions, I also really enjoy teaching, presenting, writing and mentoring.
I was able to branch out into a more macro realm of social work when I started doing EAP. I was one of the first few people in NJ to be certified by EAGALA and no one knew what it was. Initially, I wanted to market it to the schools because that was the population I was mostly working with and where I had my connections. I realized I needed to put together a "lunch and learn" where I offered a two-hour workshop to various teachers, counselors, and principals to come and experience EAP firsthand at the farm to see how it would be beneficial to students. It was both a marketing tool and a teaching tool, which were necessary to get the word out about the modality.
From there it just snowballed and I've done many introductory workshops over the years for different types of groups who want to learn about EAP. I've also been invited to guest lecture in several social work and counseling graduate classes on various topics through the connections that I have made. Another example, a fellow colleague in private practice and I wanted to offer a social skills group, but we were new to the community. We contacted the parent teacher association of the local school and asked if we could give a presentation to the parents about social skills. At the end of the presentation, we shared that we were starting a group and were able to generate some interest that way. If you like presenting or teaching, you can share your knowledge with the community by speaking at schools, libraries, and local clubs who are typically always looking for new speakers to share information.
*Experiential Therapy: A type of therapy that helps individuals to identify, explore, and address mental and emotional challenges through concrete, guided activities such as expressive arts therapy, music therapy, equine assisted psychotherapy, wilderness therapy, and/or psychodrama.
Thank you Ms. Maglio for your time and insights into clinical social work.
Last updated: April 2020