Interview with Zander Keig, LCSW on Military Social Work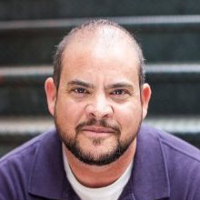 About Zander Keig, LCSW: Zander Keig is a homeless outreach social worker for the Veterans Health Administration (VHA). Prior to working at the VHA, Mr. Keig worked as a veteran's employment services specialist with the CA Employment Development Department, a career transition specialist with JobCorps, a tour guide with Old Town Trolley Tours, an undercover narcotics agent with a private investigation firm, and an EMT/Fire Fighter with the US Coast Guard.
Mr. Keig holds a B.A. in Speech with a concentration in Interpersonal Communication from the Metropolitan State College of Denver, where he graduated in 1999. He also earned an M.S. in Conflict Analysis and Resolution with an emphasis in College Student Personnel Administration from Nova Southeastern University in 2002, a M.T.S. in Theology with a focus on World Religions from Pacific School of Religion in 2004, and an M.S.W. with a focus on Clinical Social Work from San Diego State University in 2012.
He is recognized as an NASW "1,000 Experts" transgender topic expert, and serves on numerous committees, including the NASW National Committee for LGBT Issues, the NASW CA Chapter Diversity Committee, the CA Reducing Disparities Project Transgender Advisory Committee, and the Veterans Affairs Transgender Education Workgroup. He was also awarded a two-year fellowship through the Rockwood Leadership Institute's LGBTQ Advocacy Fellowship program. Zander Keig was compensated to participate in this interview.
[OnlineMSWPrograms.com] Can you give an overview of your core responsibilities as a social worker for the Veterans Health Administration? What types of clients do you work with, and what kinds of challenges do they face? How do you help them manage/overcome these challenges?
[Zander Keig, LCSW] As a homeless outreach social worker in Oakland, CA, I am liaison to a community-based, VA contract, homeless shelter with 15 beds reserved for male veterans. Veterans must be eligible for VHA healthcare services to be referred to the shelter. Once they are admitted to the shelter, I facilitate the process for securing a VHA primary care provider, if they don't already have one assigned to them. I also provide referrals to Veteran Service Organizations, which assist veterans with navigating the benefit claim process with the Veterans Benefits Administration (VBA). I also work with the shelter case manager to identify and resolve barriers to transitional or permanent housing, gainful employment and sobriety (financial, mental illness, physical disability, etc).
In addition, I provide weekly drop-in homeless social work triage services at the VA Oakland Behavioral Health Clinic where I conduct psychosocial assessments and provide referrals to VA and community-based resources and crisis intervention for veterans faced with various housing concerns, including homelessness, evictions, and unstable housing.
My VHA Healthcare System Homeless Team consists of approximately 50 social workers who act as liaisons to shelter and transitional housing programs that are managed by community partners. Our Team also consists of case managers for veterans enrolled in the HUD-VASH (section 8) permanent housing program. We all rotate daily social work triage shifts at various sites within the healthcare system. Many of our homeless veterans are assigned to a Homeless Patient Aligned Care Team (HPACT), which provides primary care services in both medical center and clinic settings. In some cases HPACT has a social worker or two attached to the team, but not in my local area.
[OnlineMSWPrograms.com] Could you elaborate on the different types of social workers who work for the Veteran's Health Administration? As a homeless outreach social worker, do you collaborate with other types of social workers at the VA?
[Zander Keig, LCSW] The VA employs over 11,000 social workers nationwide. It is recognized as the single largest employer of social workers by the NASW. The majority of social workers work in two distinct settings: primary medical care and homeless programs. There are also mental health social workers. Primary care social workers generally work in inpatient and outpatient medical units at VA medical centers and at community-based outpatient clinics. Homeless program social workers work in the same settings, yet focus on providing veterans with resources and referrals to VA and community programs serving the homeless. Veterans needing mental health and/or substance abuse programs are referred to other VA departments that provide those specific services. For example, some of the Mental Health Services providers at the VA are Licensed Clinical Social Workers.
[OnlineMSWPrograms.com] Why did you decide to become a VA social worker, and what have been some of the most rewarding experiences thus far? Do you see yourself continuing to work in the field of military/veteran social work?
[Zander Keig, LCSW] I knew in my MSW program that I wanted to work as a VHA social worker. In my second year, I applied for a SW internship at a VA medical center and was selected. I interned for the entire academic school year on an inpatient behavioral health unit serving 45 veterans. The work was so rewarding, I decided that a career serving veterans was my goal. As a veteran, I find the military culture comforting and the stability of government work satisfying. The most rewarding aspect of my current position is seeing the transformation so many of the veterans go through: from homeless, penniless and filled with despair to housed, working or collecting pension and/or disability compensation and feeling hopeful about their future. I intend to remain working for the federal government as a social worker until I retire.
[OnlineMSWPrograms.com] On the other hand, what are the most challenging aspects of your job?
[Zander Keig, LCSW] There is a growing population of elderly homeless low-income veterans, dealing with illness and sometimes substance use disorders, presenting to our clinic requesting referrals to housing programs. Unfortunately, because of their ADL (activities of daily living) limitations, they are ineligible for placement. Their acuity level indicates that board and care placement would be optimal, however their income level prohibits placement. It can take weeks or months to find suitable housing for these veterans. Sometimes I am able to assist them with filing claims for VBA pension and aid & attendance, two benefit programs for veterans who served during wartime and/or have a service-connected disability rating.
[OnlineMSWPrograms.com] How do you recommend students who are interested in military or VA social work prepare for the specific responsibilities and challenges of this profession?
[Zander Keig, LCSW] There are many community-based agencies around the country that have been awarded grants from the VA to provide services to veterans and their families, such as Supportive Services for Veterans Families (SSVF). I recommend that students seek out internships at an agency in their community that has a SSVF program.
In addition, volunteering for a Veteran Service Organization (VSO), such as Disabled American Veterans (DAV), AmVets and Veterans of Foreign Wars (VFW) would provide a social work student with access to the veteran's claim filing process through the Veterans Benefits Administration. VSO officers are authorized to represent veterans seeking rating and compensation for a service-connected disability or pension as a war time veteran. Knowing how to navigate the VA claim process is a beneficial skill when working with veterans experiencing homelessness, as they are often without income or very low-income and could benefit from additional funds to secure permanent housing.
Any course that covers or focuses on Trauma and Stress Related Disorders (DSM V) ought to provide students with an introduction to the PTSD that wartime veterans suffer from. In addition, the prevalence of Military Sexual Trauma (MST), incurred by both female and male service members, means that getting training in working with sexual assault recovery would be beneficial to working with veterans.
The NASW now offers a professional credential for social workers in Military Service Member and Veteran Family and some local NASW chapters offer CEU courses on veteran experience and military culture. In addition, there are many good documentaries and CEU trainings that cover these same topics.
[OnlineMSWPrograms.com] In addition to military veteran social work, you are also very involved in other social issues such as LGBT rights, transgender education, and advocacy for diversity. You also serve on numerous committees for the NASW and other organizations, including the NASW National Committee on LGBT Issues (2013-2016), the NASW-CA Diversity Committee (2013-2015), and the Department of Veterans Affairs Transgender Education Work Group. Can you explain how you got involved in these areas, and how you are able to divide your time among these different fields of social work?
[Zander Keig, LCSW] Prior to entering my MSW program, at age 44, I had spent over 20 years engaged in LGBT community advocacy and diversity education. I knew that I wanted to continue to be involved with both of those activities as a social worker. While in my 2nd year MSW internship, at a VA Medical Center, I was presented with an opportunity to become engaged with a national group of VA (VHA and VBA) staff working on LGBT veteran issues. I jumped at the chance to participate. This was prior to Don't Ask, Don't Tell (DADT) being repealed.
It's no secret that military culture is not the most conducive to dealing with difference. The point of basic training (boot camp) is to strip away individuality to build a cohesive team. Sexual orientation of service members has been a hot topic for many decades in the United States and until recently was used as a barrier to entering service or required the individual to not disclose their sexual orientation. That same scrutiny and secrecy follows the individual from military service to VHA settings. Thankfully DADT was repealed and out service is now, legally, permitted.
However, there are still barriers with respect to gender identity, so transgender individuals are still barred from enlistment. That does not mean that transgender individuals are not enlisting or have not served in the military. They are and they have. Therefore, we have transgender veterans accessing medical and behavioral health services at VA sites nationwide. Actually, research shows that there is a disproportionate number of transgender individuals represented in the veteran community, when compared to non-veteran population. To meet the needs of the growing transgender veteran population using VHA services, a Directive (2013-003) was issued, which covers the rights of the transgender veterans and the responsibilities of the VHA staff who provide those services.
After I completed my MSW program and was hired by VA, I re-engaged with the team working on LGBT veteran issues and was recruited to participate in a workgroup tasked with developing and designing 3 training modules for VHA staff focused on the contents of the Directive. All three modules became available for staff to complete in January 2015. Each module contains videos depicting incorrect and correct ways of engaging with transgender veterans. All of the actors portraying transgender veterans are actually transgender veterans.
Thank you Mr. Keig for your time and insights into military social work.
Disclaimer: The views expressed in this interview are those of the authors and do not necessarily reflect the position or policy of the Department of Veterans Affairs or the United States government.
Last updated: April 2020