Interview with Andrea G. Porter – Assistant Dean for Student Services at Case Western Reserve University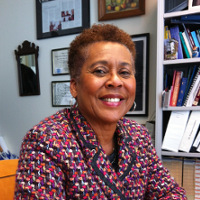 About Andrea Goodloe Porter LISW-S, ACSW: Dean Porter is the Assistant Dean for Student Services in the Jack, Joseph and Morton Mandel School of Applied Social Sciences at Case Western Reserve University (CWRU), a 2U powered program. She is responsible for student support and student retention in all of CWRU's program options and degrees at the Mandel School. Dean Porter earned a Master of Science in Social Administration (MSSA) from CWRU with a concentration in Direct Practice and a specialization in Children, Youth and Families. She is a Licensed Independent Social Worker with Supervision designation (LISW-S) thru the State of Ohio.
Dean Porter joined the Mandel School in 2004 as a Field Faculty Advisor for students in CWRU's campus based Intensive Weekend Program and later as a recruiter. As a Clinical Instructor at the Mandel School, she teaches Social Work in Child Abuse and Family Violence in the campus based program. Her background and ongoing interests have been in the area child welfare, child abuse and neglect and family violence.
[OnlineMSWPrograms.com] Currently, there are approximately 20 universities offering fully online MSW programs. How long has the program at the CWRU been offered and how is it structured?
[Dean Porter] The Mandel School is relatively new to online education. Our first cohort was admitted in Spring 2013.
Students are admitted in cohorts in spring, summer and fall each year into the traditional or advanced track depending on the undergraduate major. The online program can be completed in 2 to 2.5 years if admitted into the Advanced Standing track or 2.5 to 3 years if admitted into the Traditional track. Advanced standing students graduated with a bachelor's degree in Social Work (BSW). Traditional students graduated with degrees in a variety of disciplines including psychology, sociology, political science or other behavioral sciences. Currently students may select one of two concentrations: Community Practice for Social Change or Direct Practice. Students in the Direct Practice concentration may select specializations in Mental Health Adult or Children, Youth and Families. Field Education is concurrent with coursework.
Instruction is both synchronous and asynchronous with weekly readings, assignments, discussions and group participation, which encourages active interaction with classmates and professors. The expectations, instruction, curriculum and educational outcomes are the same in both the online and the campus based program. Field placements are required regardless of the program option. Faculty teach in both the virtual and campus based programs.
[OnlineMSWPrograms.com] CWRU offers a Master of Science in Social Administration (MSSA) that is fully accredited by the CSWE. How does this program compare to a "traditional" MSW program?
[Dean Porter] We are frequently asked this question. The MSSA degree offered by the Mandel School has been accredited since 1919 by the Council on Social Work Education (CSWE). This was the first year in which accreditation in social work education was granted to schools of social work. There is no difference between the MSW and the MSSA. While the MSW is commonly used, there are a variety of other designations that are accepted by the CSWE. The Mandel School is one of the four social work programs ranked in the top 10 that offer accredited degrees that do not have the MSW designation.
[OnlineMSWPrograms.com] CWRU offers online MSW students two concentrations options: Community Practice for Social Change and Direct Practice. The Direct Practice concentration then has two specializations: Children, Youth and Families, and Mental Health / Adult. For students who are just starting to research online MSW programs, can you briefly describe the different concentration options? Does the program prepare students for a career in direct-service social work, clinical social work or both?
[Dean Porter] Community Practice for Social Change focuses on comprehensive strategic change in organizations, communities and systems. Students develop skills needed to lead/manage this change through addressing issues of poverty, globalization, inequality, human rights and oppression of marginalized populations and cultures.
Direct Practice concentration prepares students to address human needs of individuals, families and groups and focuses on skill development and the integration of knowledge about diverse populations and problems as they occur in a variety of practice settings. The Children, Youth and Family specialization prepares students to provide a broad range of services to individuals and families in all phases of the family life cycle. The Mental Health Adult specialization prepares students for community based mental health practice.
[OnlineMSWPrograms.com] For students who want to become licensed clinical social workers, licensing requirements vary by state. What advice do you have for students in terms of researching the requirements in their state of residence and how does CWRU help with the process?
[Dean Porter] The Master of Science in Social Administration degree (which is equivalent to the MSW) fulfills all of the educational requirements of social work licensure in the state of Ohio. Graduates are also eligible to seek licensure in all other states except New Hampshire. If a student intends to seek a clinical social work license in New Hampshire, please note that no online degree program without an on-ground residency requirement, including the online degree offered by Case Western Reserve University, is sufficient for licensure as a clinical social worker in New Hampshire. For further information about various licensing requirements by state, visit the website of the Association of Social Work Boards (ASWB).
[OnlineMSWPrograms.com] Field Education is a major component of MSW programs and requires a significant time commitment from students. Many online programs are geared towards working professionals, how do you recommend students balance field education with other responsibilities?
[Dean Porter] We realize that all of our students have lives, career, family and other commitments outside of the Mandel School. In our program field placements are performed concurrently with coursework and completed each semester a student is enrolled. Time management is the most important aspect of this endeavor. Many of the students in the virtual (online) program are currently working in social service agencies and use their current employer as their field placement provided field education hours are specifically designated and differentiated from paid work hours to provide new learning experiences. This requires the student to be flexible, have the support of their employer, and a participatory collaboration between the student and the academic team.
Sometimes students may not be able to complete field education at their place of employment or may not be employed and must initiate communication with potential field sites in their location. This is when the partnership between our Field Education office, the student, and the local social service agency is of the utmost importance. We must be assured of the ability of the agency to provide supervision by a masters trained social worker and ensure that the student is provided opportunities and experiences that support and enhance student learning. There are over 7,000 alumni from the Mandel School in all 50 states that may be willing to provide field supervision to our students if asked. We explore many venues to help students identify field placements in their area of interest. Students also need the support of family since the rigor of work-life balance becomes very crucial.
[OnlineMSWPrograms.com] What advice do you have for professionals who are considering earning a MSW and possibly entering the field of social work for the first time?
[Dean Porter] Social workers are employed in many areas of the workforce. Applicants may want to interview social workers employed in their area of interest or shadow them if possible to find out what they do every day. Applicants should take advantage of any opportunity for volunteer experiences that may best suit their area of interest in the profession. Settings for these experiences are as varied as the practice areas. Applicants should also participate in webinars /web chats that provide an introduction to the curriculum, expectations of graduate school, and admissions requirements. This will allow a prospective student the opportunity to ask questions and/or set up a future interview with a faculty member, field advisor or current student.
Review the website for the Mandel School, the National Association of Social Workers (NASW), and human service agencies in your area. We want applicants and students to know that the MSSA is no different from the MSW and that the Mandel School is an accredited professional school of social work through the CSWE.
[OnlineMSWPrograms.com] For students who have already decided they want to pursue a MSW, but are unsure about online education, can you briefly explain the pros and cons to pursuing a MSW online?
[Dean Porter] The Virtual (online) program provides flexibility and allows students the convenience to pursue the degree and work full-time. Students can access courses remotely so they must have adequate technology and be comfortable using technology. Students must also be willing to commit the time and effort needed to balance obligations, meet deadlines, produce quality work, be self-reflective and have a realistic self-care plan. Online education is not for everyone so the student must be honest about their ability to control their own learning, manage schedules, set priorities, and function autonomously.
[OnlineMSWPrograms.com] Online education requires discipline from students to stay on track and keep up with coursework and assignments. What systems are in place to ensure that online students do not fall behind? Do you have any recommendations for online students in terms of staying on track with coursework?
[Dean Porter] Time management and self discipline are the most important. Virtual students, as with campus based students, are not only accountable to the field instructor but to their faculty and faculty advisor as well. If a student has not participated in the class through Moodle (Learning Management System) or is behind on assignments or unresponsive, the Academic team attempts to contact the student. Student supports available to campus based students, (i.e. Case Writing Center, Case Counseling Center, ITS, Library, University Help Desk, Student Services…) are also available to students in the virtual program. Students are encouraged to communicate regularly with professors, ask questions, and develop strategies for successful completion of assignments.
[OnlineMSWPrograms.com] Online programs have really helped to open the door to higher education for more individuals, especially those who do not have access to a local university, does CWRU accept students nationally or only from certain states?
[Dean Porter] The Mandel School at Case Western Reserve University accepts students nationally. Due to state regulations, CWRU is presently unable to accept applications for admission to an online program from Alabama residents.
[OnlineMSWPrograms.com] For students who are ready to apply to the Online MSSA Program at CWRU, what advice do you have in terms of preparing their application?
[Dean Porter] Be very thorough and make sure you understand the components of the program, the profession and what social workers actually do, deadlines, and the materials that need to be submitted. The application is sometimes the only way the Admissions Committee can learn about the applicant beyond transcripts and letters of recommendation.
Evaluation of application for admission into the Mandel School is based on four criteria:
Evidence of academic preparation: A minimum undergraduate GPA of 2.7 is required. Adequate scores on the Graduate Record Exam (GRE) or the Miller Analogies Test (MAT) are required if an applicant's GPA is below 2.7. Transcripts are reviewed for not only your overall academic performance/progress but also for your performance in your major, grades earned in specific courses and any lapses in attendance. Discuss in your personal statement below average or failing grades that may have adversely impacted your GPA, actions taken, circumstances that may have been the cause and lessons learned to prevent reoccurrence in graduate school.
Communication skills: Admission specialists, faculty, and field faculty advisors will be reviewing your application to determine your ability to complete graduate work. A strongpersonal statement which responds in depth to the questions posed in the outline helps us to understand your motivations for pursuing graduate education at the Mandel School of CWRU, your specific interests ,skills and experience. The strength of your statement communicates who you are, what you bring to the program and the quality of your writing.
Involvement in extracurricular, voluntary and work arenas: Three (3) letters of recommendation from academic and professional sources who are quite familiar with the applicants capacity to successfully complete graduate work are required. Letters of recommendation should detail your strengths and your ability to successfully complete a graduate program in social work, your performance in academic, community and paid or volunteer experiences. Your resume should highlight your paid and volunteer experiences.
"Fit" for the program: Applicants should make a strong case through the combination of transcripts, recommendations, and personal statement to help the admissions committee understand rationale for why professional social education fits as the next leg of their career journey. Be very thorough and make sure you understand the components of the program, the profession and what social workers actually do, deadlines and materials that need to be submitted. If possible, attend and participate in a web chat about the virtual (online) program.
[OnlineMSWPrograms.com] Finally, with more universities starting to offer online MSW programs, why should students consider the online MSSA program at CWRU?
[Dean Porter] The Jack, Joseph and Morton Mandel School of Applied Social Sciences is ranked #9 in the nation among graduate schools of social work by US News and World Report. The Mandel School is fully accredited by the CSWE and has renowned research and practice faculty who teach in both the online and campus based programs.
Online education provides an alternative to the other program options at the Mandel School. The virtual (online) and campus based students receive the same quality education with no difference in curriculum, educational outcomes and overall instruction. Students in the online program may choose specialized fields of practice in Community Practice for Social Change and Direct Practice. Direct Practice students have an additional option to further specialize in Adult Mental Health or Children, Youth and Families. Coursework and field placements run concurrently. This provides students with the opportunity to apply and integrate what is learned in the classroom with real world experiences in field placement. The faculty and staff at CWRU are student centered and responsive to the needs of our students regardless of program.
Finally, students in the online program are eligible for merit-based scholarships which help to make this education more affordable.
Thank you Dean Porter for your time and insight!
Last updated: April 2020