Interview with Dr. Marie Raber – Associate Dean, MSW Program Chair and Associate Professor at The Catholic University of America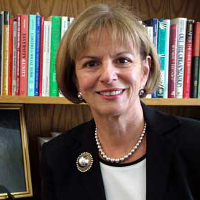 About Dr. Marie Raber, MSW, Ph.D.: Dr. Raber is the Associate Dean of the National Catholic School of Social Service (NCSSS) at The Catholic University of America (CUA) and Chair of the school's online Masters in Social Work (MSW) program. Prior to coming to the NCSSS, Dr. Raber taught as an adjunct faculty member at City University of New York, Fairfield University, and Fordham University. In 1989, she was hired at NCSSS as a full-time faculty member, earning tenure and promotion to associate professor in 1999.
Dr. Raber's primary field of practice, research, and writing is in the areas of downsizing and job loss, occupational social work, and the influence of workplace issues on the individual and the family. She has worked with employee assistance programs, conducted diversity training, career management, and human resources development with professional organizations and trade groups.
Her teaching has focused on courses in cultural diversity, human behavior, human growth and development, social work management, and delivery of social work services in the workplace. She will teach Diversity in a Multicultural Society (SSS 570) in the online MSW program. Dr. Marie Raber was compensated to participate in this interview.
[OnlineMSWPrograms.com] Currently, there are approximately 25 universities offering fully online MSW programs. How long has the program at CUA been offered and how is it structured?
[Dr. Raber] CUA's first online MSW cohort started in January 2014 and was made up of 25 students. The program, which mirrors its on-campus counterpart, is designed in a cohort model and most individuals are able to complete the program within three years unless unanticipated or professional problems interrupt this process.
[OnlineMSWPrograms.com] For students who are just learning about CUA's National Catholic School of Social Service, can you briefly explain the program's mission, values and goals?
[Dr. Raber] The National Catholic School of Social Service's mission is to ready social workers, both generalist and advanced practitioners, to promote the well-being of individuals and society as a whole throughout their career. Our goal is to prepare social workers to meet the demands of this challenging field through an education rooted in our traditional Catholic values, a rigorous, in-depth curriculum, and real-world field experience.
[OnlineMSWPrograms.com] CUA's online MSW program has a clinical social work concentration. For students who are just starting to research online MSW programs, can you briefly describe the difference between a program with a clinical social work concentration versus an advanced generalist program?
[Dr. Raber] The clinical social work concentration within our MSW program focuses on advanced clinical practice and theory, offering coursework that includes all aspects of clinical practice, such as ethics and practice evaluations with individuals, families and groups. Students in clinical field internships have more in-depth clinical work with individuals and families.
In an advanced generalist program, students take more advanced-level macro social work courses. Our online MSW program has courses in advanced generalist social work with the first field experience consistent with a generalist practice model.
[OnlineMSWPrograms.com] For students who want to become licensed clinical social workers, licensing requirements vary by state. What advice do you have for students in terms of researching the requirements in their state of residence and how does CUA help with the process?
[Dr. Raber] We recommend that students go to the Association of Social Work Boards' (ASWB)website . They have a database with licensure requirements for all 50 states and the District of Columbia. Our online MSW program prepares students for the ASWB Licensed Graduate Social Work exam, the first step toward clinical licensure. In fact, 95 percent of our students pass the LGSW exam on their first attempt.
[OnlineMSWPrograms.com] Field education is a major component of MSW programs and requires a significant time commitment from students. Many online programs are geared toward working professionals. How do you recommend students balance field education with other responsibilities?
[Dr. Raber] We are very sensitive to the needs of our working online students, given that they complete two internships in field. The first internship teaches students the micro, mezzo, and macro skills for general practice, and the second internship teaches students advanced clinical skills.
We encourage our students to work closely with our Office of Field Education to plan for completion of their two internship placements; however, students do have input into where they complete their internships. If you tell our faculty where you would like to be placed, they will work with you to try to make that happen. The internships require time and commitment, so all students working full-time will inevitably have to make arrangements to take some time off to complete the required field hours.
[OnlineMSWPrograms.com] For students who have already decided that they want to pursue an MSW, but are unsure about online education, can you briefly explain the pros and cons of pursuing an MSW online?
[Dr. Raber] Students should know that by pursuing an MSW online, they have the opportunity to use technology to experience a new form of education. They work collaboratively in groups online with the other students in their cohort and enjoy the same interaction as those in the on-campus program receive face-to-face. Because many of our students are working professionals, they're also afforded to the opportunity to complete their coursework at their own convenience, usually in the evenings and on weekends. Another advantage to online education is that students do not have to live by campus and there is no commuting time.
[OnlineMSWPrograms.com] Online education requires discipline from students to stay on track and keep up with coursework and assignments. What systems are in place to ensure online students do not fall behind? Do you have any recommendations for online students in terms of staying on track with coursework?
[Dr. Raber] Our faculty is very hands-on and monitors each student's daily and weekly performance and participation in both course assignments and group activities. Online programs require time and commitment, so I recommend that students stay organized and be thoughtful of their planning to stay on track with their work.
[OnlineMSWPrograms.com] Online programs have really helped to open the door to higher education for more individuals, especially those who do not have access to a local university. Does CUA accept students nationally or only from certain states?
[Dr. Raber] At the present time, we don't accept applications for the online MSW program from individuals in Alabama, Arkansas, New Hampshire, and North Carolina. Though, students from these states who are interested have our on-campus program still as an option, and we strongly encourage them to look into this as an alternative.
[OnlineMSWPrograms.com] For students who are ready to apply to CUA's online MSW, what advice do you have in terms of preparing their application?
[Dr. Raber] Students should complete the application online and include a statement of purpose, three letters of recommendation, a transcript of undergraduate and graduate schools attended, along with a current resume. More information about the online application process, including guidelines for the statement of purpose, can be found on CUA's MSW webpage for the online MSW program.
[OnlineMSWPrograms.com] Finally, with more universities starting to offer MSW programs in an online format, why should students consider CUA?
[Dr. Raber] Our online MSW program is taught by faculty who are experts in their respective areas of social work and bring decades of real-world experience into the classroom. Our faculty also acts as mentors to our students, building strong relationships with them and becoming a part of their professional network. Coupled with this, the clinical concentration of our MSW program is both accredited by the Council on Social Work Education and is recognized as the strongest clinical program in the Washington metropolitan area.
Thank you Dr. Marie Raber for your time and insight!
Last updated: April 2020