Interview with Dr. Teresa Morris – Professor Emerita at California State University, San Bernardino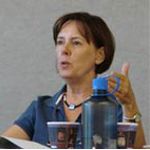 About Dr. Teresa Morris, Ph.D.: Dr. Morris is a professor Emerita in the School of Social Work at California State University, San Bernadino (CSUSB), and has worked as a faculty member at CSUSB for 25 years. She has authored two books about research methodology, and has published numerous articles on professional education, refugees, leadership, and research methods. Dr. Morris was the Director of the School of Social Work at CSUSB for 12 years and currently teaches research methods online while also directing the distance learning program.
Before coming to California, she worked as a teacher, community worker, and academic in both England and Australia. Find more information about Dr. Morris at the CSUSB School of Social Work website . Dr. Teresa Morris was compensated to participate in this interview.
[OnlineMSWPrograms.com] Currently, there are approximately 25 universities offering fully online MSW programs. How long has the program at CSUSB been offered and how is it structured?
[Dr. Morris] Planning for the M.S.W. Distance Education program began about 10 years ago, when faculty interest in this mode of instruction began to grow. Course development began in 2010 and we began offering the program in the fall of 2013. Classroom courses have been converted to an asynchronous, online format. Field Education includes both asynchronous and synchronous learning. The program has the same structure as our on-campus, three-year, part time program. Students enter the program as a cohort and go through the program together in the same cohort from beginning to end. Since courses are sequenced, if students need to take a leave of absence for any reason, they would need to re-commence their studies a year later at the same point in the program that they left to take the leave.
[OnlineMSWPrograms.com] For students who are just learning about CSUSB's School of Social Work, can you briefly explain the Program's Mission, Values and Goals?
[Dr. Morris] Our mission is to provide accessible, dynamic, and rigorous academic programs that prepare students with a foundation and advanced professional values, knowledge and practice skills to effectively enhance the well-being of the diverse populations and communities of our region, state and world. Accessibility means that we attract and retain a student population reflective of a diverse population and provide social work education opportunities to students in previously unserved areas. Dynamic Change means that we change and innovate to reflect changes in the professional knowledge base, technology for practice and teaching, regional demographics and needs, and national and global trends that affect human well-being. Rigor means that the education is rigorous as demonstrated by comprehensive assessment of the values, knowledge and practice competencies that we expect our students to acquire during the program.
Professional Social Work Knowledge, Skills and Values means that we promote human and community well-being through teaching professional social work values, knowledge and practice skills. These values include service, social justice, the dignity and worth of the person, the importance of human relationship, integrity, competence, human rights, and scientific inquiry. The knowledge base includes risk and protective factors in all stages of human development, practice skills to enhance the functioning of individuals, families, groups, organizations, communities (including policy advocacy), and the skills of scientific inquiry. Serving the diverse populations and communities of our region, state and world means that our programs prepare students for practice in a regional, state and global context of dynamic diversity.
[OnlineMSWPrograms.com] CSUSB's online MSW program has an Advanced Generalist concentration. For students who are just starting to research online MSW programs, can you briefly describe what it means to be an Advanced Generalist program? Does the program prepare students for a career in direct-service social work, clinical social work or both?
[Dr. Morris] All students in the M.S.W. program at CSUSB complete both micro practice (interventions with individuals, families, and groups) and macro practice (interventions with organizations and communities at the local, national, and international levels) at the Foundation and Advanced levels. In addition, in the final year of the program, students choose a specialization. This could be a social problem, a client group, or an area of practice. At the Foundation level micro and macro practice includes a history of practice, an introduction to the generalist model of practice, theories of practice and basic practice skills. At the Advanced level students are introduced to three roles: change agent, inter-agency, inter-disciplinary worker, and leader. These roles emerged for us when we answered the questions: what do we want our students to be (change agents)? Where do we want them to practice (inter-agency/inter-disciplinary settings)? What do we want them to become (leaders)?
[OnlineMSWPrograms.com] For students who want to become licensed clinical social workers, licensing requirements vary by state. What advice do you have for students in terms of researching the requirements in their state of residence and how does CSUSB help with the process?
[Dr. Morris] Students who complete the M.S.W. program at CSUSB have met the requirements to begin working towards acquiring an LCSW in the state of California. Students from other states should check their state's licensing website for current information on becoming a licensed clinical social worker in that state.
[OnlineMSWPrograms.com] Field Education is a major component of MSW programs and requires a significant time commitment from students. As many online programs are geared towards working professionals, how do you recommend students balance field education with other responsibilities?
[Dr. Morris] The Field Education component of the M.S.W. at CSUSB begins in the second year of the program. Students must complete 16 hours per week of Field Education in the second year of the program and 20 hours per week of Field Education in the third year of the program. The Field Education site is usually close to where students live; however, students will need to plan for completing the hours during the workweek. Many students request evening and weekend hours but field placement sites that can offer meaningful education with appropriate supervision during these hours are limited. When applying to the program, students will be required to outline their plans for completing these hours during the work week.
[OnlineMSWPrograms.com] Online education requires discipline from students to stay on track and keep up with coursework and assignments. What systems are in place to ensure that online students do not fall behind? Do you have any recommendations for online students in terms of staying on track with coursework?
[Dr. Morris] Courses in the M.S.W. program at CSUSB have been redesigned with weekly, required tasks and assignments. Usually the deadline for tasks and assignments is midnight on Sunday. The online Field Education learning and assignments may have different deadlines to accommodate the preparation needed for the synchronous field seminars. Students are encouraged to get into a weekly routine of logging in to meet these deadlines. In addition, we track students' login activities. If students have not logged in during a particular week they receive a phone call inquiring about any problems or barriers to keeping on track with the program.
[OnlineMSWPrograms.com] Online programs have really helped to open the door to higher education for more individuals, especially those who do not have access to a local university. Does CSUSB accept students nationally or only from certain states? Are there any states from which the program does not currently accept students?
[Dr. Morris] When students from outside of California apply to our program we check with the California State University system office to see if we have a reciprocal arrangement with that state. If we do, we proceed with the application. So far, we have not found any States that we do not have reciprocal arrangements with.
[OnlineMSWPrograms.com] For students who are ready to apply to the Online MSW Program at CSUSB, what advice do you have in terms of preparing their application?
[Dr. Morris] The best piece of advice I can give is to please answer the questions. We have an admissions committee that rates applications and awards points according to students' answers to the questions asked in the application packet. So many times, students receive a weaker assessment than they deserve because they failed to answer questions. Also, this may sound obvious, but please write grammatically. We do not interview applicants and so the only impression we have is the information provided in the application. If this is poorly written then we will develop a poor impression of the applicant and have difficulty admitting him or her to our program.
A final piece of advice relates to low GPAs. If you have a low GPA, please address this in your personal statement and make sure that you have at least one academic reference. If you offer an understandable explanation for your low GPA you may well have a chance of being admitted to the program. However, if you do not address your low GPA in your application, it is unlikely that you will be considered for the program.
[OnlineMSWPrograms.com] Finally, with more universities starting to offer online MSW programs, why should students consider CSUSB?
[Dr. Morris] I think the best reason for considering the M.S.W. at CSUSB is the core education on social work practice offered by the advanced generalist model combined with the opportunity to develop a unique specialization. This offers a curriculum with both the rigor of a solid professional education and the flexibility that allows students to adapt their learning to their own social work setting. It gives students a basic background in social work plus the skill to develop a specialization. In changing times, openness to developing knew expertise is crucial for social workers. We offer the opportunity to do this.
Students who are interested in getting more information about CSUSB's online MSW program can visit CSUSB's website .
Thank you Dr. Morris for your time and insight!
Last updated: April 2020