Social Work and the LGBTQIA+ Community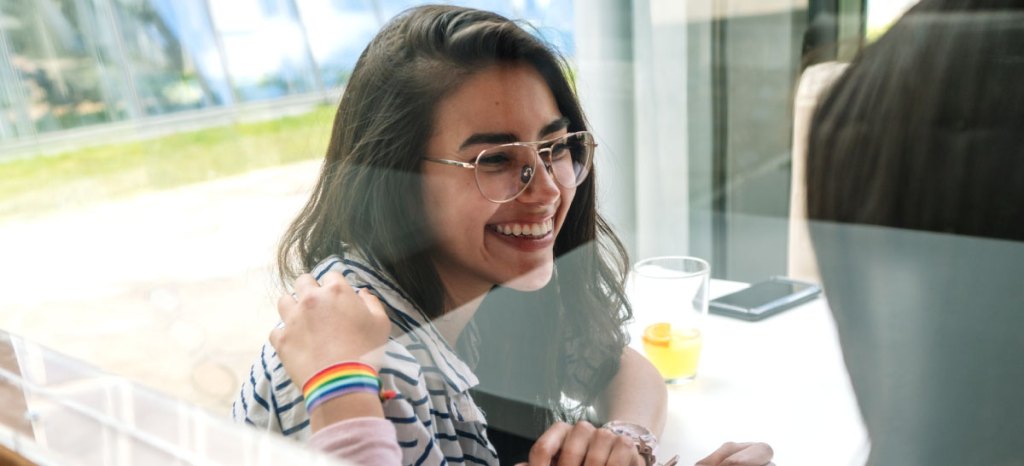 Social workers exist at the intersection of community organization, mental health and advocacy, making them uniquely suited to support the LGBTQIA+ community. Aspiring social workers who want to learn about the potential of the field and current professionals interested in relevant resources can navigate the sections below for career information and tools.
Social work with LGBTQIA+ community members can be a complex task. But as advocates, community members and health care experts, licensed social workers have the unique opportunity to support LGBTQIA+ individuals in ways other professions might not be able to and help them get through experiences out of their control. These clients may face health disparities, legal discrimination and violence that non-LGBTQIA+ clients don't experience.
Some of the LGBT social issues that social workers can commit to working on, include:
Legal discrimination.
The LGBTQIA+ community has gained rights under the law during the past 20 years—such as the right to serve openly in the military and the right to marry—but many people in the United States remain legally unprotected in their daily lives.

For example, there is no federal law banning discrimination based on sexual orientation or gender identity in public accommodations like restaurants or businesses, according to the ACLU. Even won rights do not apply to the entire community and are at risk: A 2017 executive order banned transgender Americans from serving in the military, until a new administration could reverse the decision.

Social workers can advocate for anti-discriminatory policy through research and legal aid resource offerings to communities.
Conversion therapy.
Some LGBTQIA+ people, especially youth, have been forced to undergo conversion therapy—a practice that purports to change a person's sexual orientation.

According to the National Survey on LGBTQ Youth Mental Health 2021 from The Trevor Project, 13% of LGBTQ youth (ages 13–24) report being subjected to some form of conversion therapy. Four out of five experienced it when they were minors. Social workers across all fields of practice—substance misuse treatment, therapy, corrections and more—work with LGBTQIA+ people who've undergone conversion therapy.
Social workers can connect their clients to professionals who practice affirmative therapy.
Health disparities.
Social determinants of health are the conditions of one's surroundings, such as where someone lives or works, that affect health outcomes. According to Human Rights Campaign, 29% of LGBTQ+ adults of color say they've been diagnosed with a depressive disorder by a healthcare service provider. By comparison, 39% of LGBTQ+ adults have received a depressive disorder diagnosis.

The Trevor Project's 2021 survey on youth mental health indicates that more than half of transgender and nonbinary youth seriously considered suicide sometime in the past year.
Social workers who are aware of significant health disparities among the LGBTQIA+ population may be better prepared to provide culturally competent services and access to resources that will help mitigate negative health outcomes.
Hate crimes and violence.
FBI data shows that about 17% of hate crimes reported in the United States in 2019 stemmed from sexual orientation bias. Almost two-thirds of these were classified as anti-gay male bias. Additionally, the number of hate crimes due to gender identity bias has risen steadily over the past decade—from 33 reported incidents in 2013 to 224 incidents in 2019.
Social workers are skilled at creating coalitions and strengthening communities. Professional campaigns to help end hate crimes include educating people on what they can do to prevent violence and working with officials to build safer communities.
Social workers follow a set of core ethics and morals, outlined in the National Association of Social Workers (NASW) Code of Ethics. Among the framework are integrity, social justice and client dignity. When working with LGBTQIA+ clients, these moral obligations are also related to their experiences of societal stigma and discirimination. LGBT social work programs center the client's safety and needs. Some of the ways social workers can support LGBTQIA+ clients include:
Examining your own beliefs. In Lambda Legal's Tools to Support LGBT Youth in Care toolkit (PDF, 1.8 MB), the first recommendation for caseworkers of LGBTQ clients is to do a self-evaluation of your own prejudices, experiences and biases. What could affect your professional responsibilities to your client, and how can you manage that?
Practicing affirmative therapy. According to an American Psychological Association report on appropriate therapeutic responses to sexual orientation (PDF, 1.2 MB), affirmative therapy centers on acceptance and validation of sexual orientation and gender identity. This approach can help reduce peer and family rejection and ease internal stigmatization.
Using inclusive, open-ended language. R. Lane Forsman, PhD, LMSW, an assistant professor in the department of social work at Southern Illinois University Edwardsville, recommends communicative techniques to keep clients feeling comfortable and listened to. For example, avoid initially using gendered questions and implement simple body language techniques like eye contact and a welcoming stance.
Creating a positive physical environment. Lambda Legal also recommends social workers set up physical, visual indicators that signal to their clients that they are in a welcoming environment. This could include pride flags and other symbols or informational posters highlighting LGBTQIA+ resources or LGBT-affirming language.
There are a variety of social work careers for professionals who want to advocate for the LGBTQIA+ community. For those interested in learning how to become a licensed clinical social worker and what other kinds of opportunities exist, below are just a few examples of LGBT social work jobs.
Youth Counselor
A youth counselor's primary duty is to supervise and support children's physical and emotional needs through the services of a larger organization. Counselors can work for schools, faith-based organizations and social service agencies. LGBTQIA+ youth centers, in particular, could be good places to help youth in need of counseling services and a welcoming space.
Advocacy Work
The nonprofit sector is full of organizations fighting for the rights of LGBTQIA+ people and against discrimination. Professional social workers can pursue a career in public policy through research contributions, field assignments and more.
Adoption Agent
An adoption social worker facilitates the adoption process for prospective parents and children. As of 2016, all states now allow LGBTQ adoption; however, private agencies are still allowed to discriminate based on sexual orientation. Adoption agents can help LGBTQIA+ individuals who are growing their families navigate issues as they arise.
Licensed Clinical Social Worker
LGBTQIA+ clients may face unwelcoming communities, violence and discrimination—just a few examples of external forces that can have strong and long-lasting psychological effects. According to SAMHSA, almost half of LGBT adults who experience mental illness do not receive treatment. Licensed clinical social workers who focus on therapy for LGBTQIA+ clients can help fill a much needed gap.
There are lots of resources available to social workers who want to be better advocates to the LGBTQIA+ community. LGBT social work programs, organizations and articles provide additional context to data and tools to help individuals become better advocates.
An all-ages helpline staffed by highly trained volunteers who identify somewhere on the LGBTQIA+ spectrum.
A national talkline for callers age 20 and younger to speak on issues related to coming out, health concerns and more.
A peer support phone service run by trans people for trans and questioning peers.
A crisis intervention and suicide prevention service for LGBTQ+ youth.
Last updated January 2022