A Career Guide for High School Students About Helping Professions

Laura Burns, MSW, is a medical social worker whose clients include older adults in low-income households. In her role, she connects her clients with a variety of services to enrich their lives, from social events and activities to medical services.
"I feel really blessed that I get paid to do this work, to connect and learn about people who have lived very interesting lives – very different, often, from the life that I have led," she said.
The gratitude Burns feels speaks to her motivation for pursuing a career in this industry – helping people.
Social work is one of many helping professions that high school students may consider when planning their careers. But what does a helping profession entail? What skills and education are required to go into these fields? How can students gain experience to find out if they want to pursue a helping profession?
This resource can guide high school students as they explore helping professions, learn about the requirements needed for these career paths and identify opportunities to experience these careers through volunteering and work.
What is a Helping Profession?
The American Psychological Association (APA) defines helping profession as a career that provides health and education services to individuals and groups. This type of occupation is best for people who want to nurture the growth of or address the problems of a person's physical, psychological, intellectual, emotional or spiritual well-being.
Helping professions, sometimes referred to as helping careers, span several industries and areas of study. A few examples of helping profession fields include social work, psychology, counseling and public health.
What Skills Are Needed in Helping Professions?
There are a variety of occupations that fall within the definition of a helping profession. For example, public health and counseling are two career paths with differing roles and responsibilities. Still, there are some common skills and personality traits that can help an individual be successful and experience fulfillment in this type of career.
Qualities of a Helping Professional
According to the Bureau of Labor Statistics' (BLS) Occupational Outlook for Social Workers, interpersonal and communication skills are important qualities for professionals working in the field. Other helping profession fields may value compassion and problem-solving. The graphic below displays common skills and qualities for helping professionals across several fields based on information from the BLS.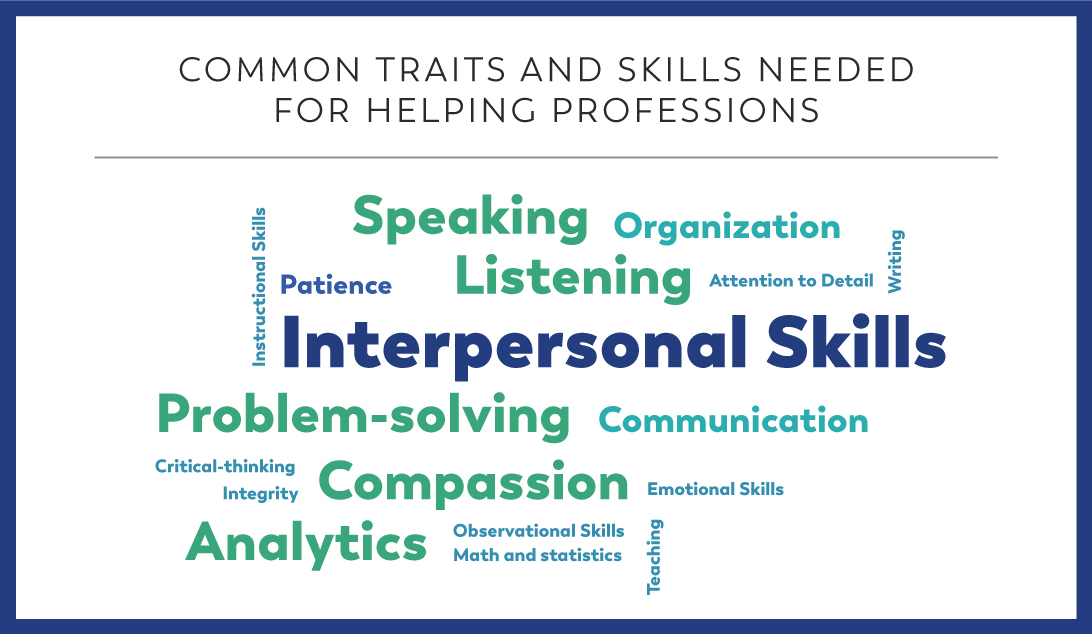 How to Gain Experience in a Helping Profession Field
How can someone learn more about a helping profession to see if it is a good fit? Getting direct experience is a great start. For high school students, starting with a volunteer position or a part-time job related to helping people can be a first step. Volunteering to spend time with patients at a nursing home, tutoring younger students or taking a summer job as a camp counselor are three examples of age-appropriate experience for teenagers.
As students continue their education beyond high school, internships and other employment opportunities will become available.
For example, Sasha Chelsea McGowan, MSW, a continuing services social worker in Contra Costa County, California, said she had multiple experiences working with foster youth before earning her master's degree, including volunteer positions and lower level jobs.
In addition to working for a group home, McGowan cited several programs for volunteer and job opportunities that are not directly related to social work, but can provide valuable experience, including substance use intervention programs, mental health crisis lines, and after-school diversion programs.
How to Find Learning Opportunities for Helping Professions
Some tips for finding volunteer positions, jobs and internships to explore whether to work in the helping professions:

Find the right opportunity
If a student is interested in working with a certain population, they should find a position that gives them access to that population. For example, an individual interested in counseling children could volunteer at a youth center.

Connect with organizations
National organizations related to a students' career aspirations may have local chapters, which could provide valuable volunteer opportunities and connections.

Think locally
Students can look for places to help in their own back yard. Community centers, libraries and other local establishments need tutors or other volunteers.

Use time wisely
Finding time to work or volunteer can be a challenge. Volunteer positions can offer flexible schedules, while after-school jobs and summer positions can more easily accommodate a teenager's other responsibilities.
Finding a Career Path: Types of Helping Professions
Deciding to explore a helping profession is half the battle. Students should also consider their other interests and passions to determine what type of helping profession is right for them. Here are four potential fields to consider:
Social Work
Social workers identify clients' problems and research community resources that may address their clients' needs.
Professionals in the social work field can specialize in numerous areas, including:
Administration and management
Advocacy and community organization
Aging
Substance use and misuse
Child welfare
Developmental disabilities
Health care
International
Justice and corrections
Mental health and clinical
Occupational and employee assistance program (EAP)
Policy and planning
Public welfare
School social work
WHAT DOES A CHILD WELFARE SOCIAL WORKER DO?
Child welfare social workers protect children from abuse, neglect and other maltreatment. Individuals in this role focus on ensuring the social, physical, psychological and emotional well-being of their clients.
WHAT EDUCATION IS REQUIRED TO BECOME A CHILD WELFARE SOCIAL WORKER?
Child welfare social workers require at least a master's in social work (MSW) and must complete a supervised practicum or an internship. Before applying for a master's program, individuals can earn their bachelor's degree in social work or a related field, such as psychology or sociology, according to the BLS Occupational Outlook Handbook for Social Workers.
YOU MAY BE INTERESTED IN THIS CAREER IF:
You are interested in working with children and are passionate about advocating for underserved people.
If you are considering a career in social work, read more about how to become a social worker and how to earn your master's in social work. 
Psychology
Psychologists work with clients who have emotional or mental health issues and provide ongoing treatment for them. Psychologists may conduct and publish research on their area of focus.
Professionals in this field can specialize in:
Clinical psychology
Counseling psychology
Developmental psychology
Forensic psychology
Industrial–organizational psychology
Rehabilitation psychology
Career Spotlight: Clinical Psychologist
What does a clinical psychologist do?
Clinical psychologists work with clients to assess, diagnose and treat mental, emotional and behavioral disorders. These helping professionals help people deal with problems ranging from short-term personal issues to severe, chronic conditions.
What education is required?
According to the BLS Occupational Outlook Handbook for Psychologists, an individual is required to earn a doctor of psychology (Psy.D.) to practice as a psychologist. Typically, they precede their doctorate degree with a master's degree in psychology and bachelor's degree in psychology or a related field.
You may be interested in this career if:
You are interested in working with clients on a long-term basis to help them manage their conditions.
Counseling
Counselors are trained to work with individuals, families or groups in coping with emotional, mental and behavioral issues. Counselors often specialize in a specific group, such as high school students, people dealing with substance use or families.
There are multiple specialties within the field of counseling, including:
Addiction counseling
Career counseling
Clinical mental health or community agency counseling
Marriage, couple and family counseling
School counseling
Student affairs and college counseling
Career Spotlight: School Counselor
What do school counselors do?
School counselors work directly with students to help them develop academic, social and career-ready skills.
What education is required?
School counselors are required to have at least a master's in counseling. Before entering a master's program, individuals may earn a bachelor's degree in a variety of subjects, according to the BLS Occupational Outlook Handbook for School and Career Counselors. Many master's degree programs for counseling also require an internship.
You may be interested in this career if:
You want to work with young people and help them succeed in school and life.
Public Health
Public health professionals promote and protect the health of people and the communities where they live. A public health professional may focus on disease, environmental issues like global warming, or the ways social issues like poverty affect people's health.
Public Health is a broad field, with a variety of career options such as:
Health educator
Researcher
Community planner
Nutritionist
Epidemiologist
Public policymaker
Career Spotlight: Epidemiologist
What does an epidemiologist do?
Epidemiologists are public health professionals who investigate patterns and causes of disease and injury in humans.
What education is required?
Epidemiologists are required to earn at least a master's degree, most commonly in public health with a specialization in epidemiology. According to the BLS Occupational Outlook Handbook for Epidemiologists, individuals may choose to study within a variety of related fields for their bachelor's degree, such as biology or mathematics and statistics.
You may be interested in this career if:
You like looking at the big picture and using data to find solutions that will help people live healthier lives.
The careers highlighted in this guide are just a sample of the many helping professions available. Rooted in the core value of improving the lives of others, there are many opportunities for high school students to discover as they reflect on their career goals.
Resources for Further Reading
Sources
Information was taken from the following career webpages in the Occupational Outlook Handbook from the Bureau of Labor Statistics, all accessed Jan. 8, 2020: