California State University, San Bernardino (CSUSB) Online MSW Program
California State University, San Bernardino's (CSUSB) College of Social & Behavioral Sciences offers a part-time online Master of Social Work (MSW) program that can be completed in three years. Currently, CSUSB only offers a program designed for traditional standing students and does not offer an advanced standing track (which requires a Bachelor of Social Work). CSUSB's program has an advanced generalist concentration where students learn both micro (interventions with individuals, families, and groups) and macro (interventions with local, national and international organizations and communities) social work.
Sponsored Online MSW Programs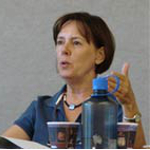 Learn More: Interview with Dr. Teresa Morris – Professor Emerita at CSUSB
"I think the best reason for considering the M.S.W. at CSUSB is the core education on social work practice…" Read more from Dr. Teresa Morris's interview
The online MSW program uses a cohort model of instruction where students proceed together as a group through the program. In addition, the majority of classes use asynchronous instruction, meaning students are not required to login at specific times to attend lectures. However, students may be required to meet in real-time for some classes and lectures.
Cal State San Bernardino's online MSW program does require students to attend three two-day on-campus orientations, one in each year of the program. These orientations give students an opportunity to interact with professors and fellow classmates face-to-face and may be a good option for students who want to feel more connected to the university and campus.
CSUSB is regionally accredited by the Western Association of Schools and Colleges (WASC) and the School of Social Work is accredited by the Council on Social Work Education (CSWE).
California State University, San Bernardino Online MSW Program: Overview
Department: The School of Social Work at California State University, San Bernardino
Degree Types: Traditional Standing Only
Concentrations: Advanced Generalist with Specializations
Program Structure: Online with field education (note: students must visit the campus three times during the program in August of each year for a 2 to 3 day orientation)
Instruction Methods: Program follows a cohort model with the majority of classes using asynchronous instruction – students may be required to meet in real-time (synchronous instruction) for some class meetings
Disclaimers: Please contact the Program Coordinator to determine if the program is available for your state of residence.
Program Information – Traditional Standing Students
Program Overview
Program Name: Pathway M.S.W. Distance Education Program
Phone Number: (909) 537-5501
Program Requirements
Field Education Requirements: 1,080 hours (two internships)
Number of Credits Required: 60 credit hours
Program Length
Program Options: Part-time only (*Students are required to complete field education during daytime hours)
Program Length: 3 years
Program Start Dates: Fall admission only
Admission Requirements
GPA: Minimum GPA of 3.0 (students with a minimum GPA of 2.8 may be considered if application is sufficiently strong)
GRE Information: Not required
CSU San Bernardino's MSW program information was last updated in March 2020. For more information, visit the university's website above.
If you have additional information about this program, email us at contactus@onlinemswprograms.com.