Interview with Dr. Dana Grossman Leeman – Associate Professor of Practice and Program Director for the Online MSW Program at Simmons University
(interview published October 2014)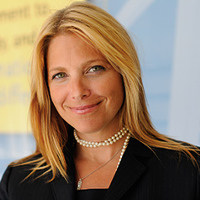 About Dr. Dana Grossman Leeman, M.S.W., Ph.D.: Dr. Leeman is an Associate Professor of Practice and the program director for the online M.S.W. program in the School of Social Work at Simmons University. She earned her M.S.W. from the Boston University School of Social Work in 1989, where she majored in casework with a minor in group work. Dr. Leeman earned her doctorate from Simmons University in 2004 and her dissertation focused on relational resilience in the life stories of child survivors of the Holocaust. She currently teaches MSW 577, Introduction to Social Work with Groups.
After earning her M.S.W., Dr. Leeman worked primarily in mental health settings. She worked as an inpatient social worker in a psychiatric unit for five years, then in a partial hospital program with patients who had co-occurring mental illness and substance abuse disorders, many with trauma histories, doing individual, group, and family work. Dr. Leeman also conducted a family therapy externship program, where she studied different systemic and strategic family systems therapy approaches in addition to working full time in the partial hospital program. In the first 10 years of her career, she also did private practice with individuals, couples, families, and groups. She joined the faculty at Simmons University in 1996 as an adjunct faculty member teaching a group social work course. Since then, she has taught several different social work courses including social policies, human behavior, and social action, and became a full-time faculty member in 2007.
[OnlineMSWPrograms.com] Currently, there are approximately 25 universities offering fully online M.S.W. programs. How long has the program at Simmons University been offered and how is it structured? Why did Simmons University decide to start offering a new online M.S.W. program?
[Dr. Leeman] First, we were seeing many, many inquiries for our admissions team from prospective students who wanted to know if there was an online degree program. As demand for a degree earned online increased, it seemed incumbent upon us to respond.
So it was really to meet the growing needs of students who wanted to avail themselves of a Simmons degree but who weren't living locally, or who were living closer to Simmons but because of their lives – work, family, other responsibilities – just couldn't have done it if they had to commute to campus. The time that it would take to commute was going to make it not feasible for them to do their M.S.W. at Simmons, and they wanted to become clinical social workers. So that demand created an opportunity for innovation.
I think the second thing is that we understand that the possibilities for creating quality online education are there. And we're able to do exciting things to bring our on-campus program online. The quality of the teaching will be the same, because many of the tenured and full-time faculty members are creating these courses. We have at our disposal an array of technological tools that enables us to deliver content differently and to be creative in ways that we aren't able to be on the ground. And I think that we are creating a program that is extremely dynamic – rigorous, but really current. I think there are a lot of things about it that will help create a culture of warmth and accessibility but retain the things that make Simmons one of the top schools in the country: the rigor, the quality of the training, the agencies where we place students – all of these things are going to be consistent. So we thought, "If we're going to do this, we're going to make sure that it's done right."
Students begin the program in cohorts. There are five starts a year, spaced out every few months over the course of a calendar year. Students may begin in one cohort, but it doesn't mean they're not going to interface with students from another cohort. It depends on the classes they take and class times. We're going to be offering day and evening classes; there may be a point at which we have multiple sections running on any given day at different times to meet students' needs. They will begin with one group but will merge as they continue their study with other students as well. We're going to be creating many activities and events for students to meet each other, to support and learn from each other, and to be in this experience with each other as the program progresses.
Students are exposed to both synchronous and asynchronous content for each course. The synchronous content is the live session, which is 90 minutes a week. And in addition to readings and papers, students will spend approximately 75 to 80 minutes a week doing asynchronous class time, which usually comprises a series of lecture videos; roundtable discussions with instructors and students; and experiential activity videos that students will reflect on either by recording a video themselves or by writing something, posting comments on the wall, or tweeting, depending on the course. This is going to help them develop their conceptual framework outside of the live session so they can use the live class time to deepen their knowledge and to practice skills that they can then bring out into the field. We think that they're going to begin learning asynchronously and then really both deepen, practice, develop and hone skills in the live sessions. That's how things are structured.
In terms of how long it takes to complete the program, it really depends on the student. If you come as an extended program student, you might complete the program in 36 months; if you come full time, it's generally about 18 months. The traditional on-campus two-three-four-year plan isn't quite the same for the online student.
[OnlineMSWPrograms.com] For students who are just learning about the Simmons School of Social Work, can you briefly explain the program's mission, values, and goals?
[Dr. Leeman] The mission of Simmons School of Social Work is to provide students with a single-concentration, clinical training program. We really specialize in helping students train to be professional clinical social workers. But we also do it with a view towards creating a professional identity, where the student is exposed to the importance of social justice, engaging in anti-oppressive and anti-racist work, and understanding the structural and systemic causes of oppression and how that impacts an individual or family within a community. Students come to understand the importance of person in environment and the impact of context. So I think, in some ways, our mission is to teach students to become effective clinicians who can provide comprehensive bio- and psychosocial assessments and who understand how to build relationships with clients and how to formulate intervention strategies that are embedded in evidence and best practices. It's also to understand that part of their professional identity is as an activist practitioner.
I think that this will absolutely translate to everything we do online. The values of the online program are the same values as the on-campus program; there's no difference. There's no difference in the kind of student we're looking to admit, and no difference in the caliber of the classes we're teaching — many of the classes have been created and are being taught by our full-time faculty. So the student online is really going to get the same education, it's just going to be delivered in a different platform, with certain technological tools that are actually not available to on-campus students at this point. What they may not be getting in terms of being in a classroom with people they can turn around and talk to and touch in the same way, they'll be getting in opportunities to support their learning in ways that on-ground students won't have access to. The values, the mission, and the goals of the on-campus and the online programs are the same.
[OnlineMSWPrograms.com] For students who want to become licensed clinical social workers, licensing requirements vary by state. What advice do you have for students in terms of researching the requirements in their state of residence and how does Simmons University help with the process?
[Dr. Leeman] Licensing requirements do vary by state, and the best way for social work students or prospective social work students to learn about what is required in terms of training, supervision, and post-M.S.W. training and supervision is through two resources. They can go to the National Association of Social Workers (NASW) website and click on the relevant state chapter, which gives all the pertinent information. They can also go to the website for the certification board in their state to get additional information.
Simmons University has historically provided information regarding licensure for Massachusetts students, since we've only been a state-bound school. But as we expand, I'm sure we will be gathering additional information to help students through our academic advising support services. So, not to worry. The resources are easily accessible on the web, and we will certainly assist in any way we can.
[OnlineMSWPrograms.com] Field education is a major component of MSW programs and requires a significant time commitment from students. Many online programs are geared toward working professionals, how do you recommend students balance field education with other responsibilities?
[Dr. Leeman] According to the profession, field education is the signature pedagogy. Which essentially means that the critical aspects of learning happen through practice. That's where students learn how to be professionals; they learn the skills and put into use the skills that they're learning conceptually in the classroom. I think what's important is that they're going to feel pulls in the field and pulls in the classroom. The key to understanding social work education as applied profession is that they're extensions of each other. It's not so much about balancing responsibilities; it's balancing those responsibilities with the other things going on in their lives and trying to create time to still maintain connections, engage in self-care, and do things for fun. That's really the challenge, I think, for most students – finding work/life balance, not field placement versus classroom balance.
I think it's important, though, in their field education experience, that students really come into it with an openness and a profound respect for the teaching that they will get through supervision and the clients. Our clients are our greatest teachers, actually. And I think it's important to see themselves as really representing the profession, as human beings with integrity and maturity, as well as representing SocialWork@Simmons. And to be curious and thoughtful and ask questions and get all they can, soak it all in.
They should also ask for help, how to dot the i's and cross the t's: How do I put to use with a client what I'm learning, maybe, in my human behavior class, or my policy class, or my research class, or my group work class? Students must engage in active conversations to really be proactive adult learners. Let supervisors know how they can best be helpful and be clear with them about your learning needs, but also about what is realistic for the time that you're at the placement site and the other things that you are expected to do. Be thoughtful about how to use supervision. I think that makes the field experience even richer and more multidimensional.
[OnlineMSWPrograms.com] For students who have already decided they want to pursue an MSW, but are unsure about online education, can you briefly explain the pros and cons of pursuing an MSW online?
[Dr. Leeman] The "pros" of an online M.S.W. program are that you have a flexibility you don't get with an on-campus program; you're doing coursework that occurs asynchronously, so it's on your own time, in between live sessions. Instead of having a three-hour campus-based class, half of your time is done at home, when it works best for your schedule, and the other part is done through a live session, but that could be done at work or at home, as long as it's in a quiet, protected space. You have a lot of flexibility, and I think that's a tremendous pro to an online program, particularly since most of our students are working in addition to going school, and this enables them to continue to earn the income they need to support themselves and their families.
Another pro to online learning is that you'll be in live session classes with students from all over the country. On campus, you tend to have students from a particular geographical area, and if you have folks from outside that area, they're outliers. Whereas you'll be sitting in classes as an online student with people from the East Coast, the West Coast, the South, the Midwest — and that adds a diversity of life experience and perspective. It may mean that there's more cultural and racial diversity than we would see in an on-campus class. That adds a domain of richness to the experience that I think our on-campus students don't get as much. I think it's a more heterogeneous student population, which is fantastic. And from a teacher's perspective, unbelievably exciting and full of possibility and opportunity for people to learn even more.
I think the "con" of an online M.S.W. program is that it's harder to be part of a community and to connect with others, because it's all happening virtually, and the student has to be more proactive. Maybe this is an artifact of my age, but I find that it takes more energy and effort. I think for folks who are more comfortable digitally, or are "digital natives," that's second skin to them. For me it's not so intuitive all the time. So I feel the value in sitting in a room with people connecting, to be able to really see them and take them in, with the room having a kind of chemistry, a sort of climate, a feel. You don't get that online, and I feel a bit concerned that students will find that difficult. And for students who are less proactive in seeking out supports, seeking out people in more assertive ways – I feel concerned about the online program being a good fit. However, I really do think that students that I tend to see and hear about and learn about are more comfortable in that sphere than I am. But I'm growing more accustomed. So I think that if you want a real-time experience, a real campus, a hallway to walk down, if you don't want to live and work in a virtual space, it's not the right fit for you. But if that's OK, and you're comfortable, and it meets your needs as a student, and fits in with your life, then, absolutely, it's a great fit. And only the individual can know.
[OnlineMSWPrograms.com] Online education requires discipline from students to stay on track and keep up with coursework and assignments. What systems are in place to ensure that online students do not fall behind? Do you have any recommendations for online students in terms of staying on track with coursework?
[Dr. Leeman] My recommendations for staying on track with coursework are to really plot out a schedule where you pick clusters of time to immerse yourself in the material. If you know you're a morning person, you can get up early before work, class, or field placement and put in a chunk of time to study. Have a comfortable, well-lit space in which you can study without distraction and noise, if possible. Every day you should be building in time to do your work. Each class you take is about three hours of scheduled time between the live session and the asynchronous content, but that doesn't count readings, writing papers, and doing other kinds of field assignments that are required in different courses. So the prep is really significant; the program is really rigorous.
If you don't dedicate yourself to organizing your time, materials, and workspace, you're going to have a harder time getting work done and producing good-quality work. So much of what happens in social work programs is reflective. It's time that you're thinking, marinating, percolating about the ideas and the themes before you can even put words down. If you don't give yourself time to do the reading and let yourself reflect on it before you have to put it to use, you're short-changing your education. You also will be much more pressed for time, your work will probably reflect a lack of organization, and your grades will suffer – but most important, your learning will suffer. And if you're less than well-trained, your clients don't get the best you can offer, and they are absolutely entitled to that.
[OnlineMSWPrograms.com] For students who are ready to apply to the online M.S.W. program at Simmons University, what advice do you have in terms of preparing their application? I know the program requires a Statement of Professional and Educational Intent.
[Dr. Leeman] In terms of preparing an application, make sure that you give yourself plenty of time to write and edit your personal statement. Your personal statement needs to reflect an integrated understanding of why you're choosing social work as a profession. Indicate knowledge, even if it's a beginning knowledge, of what social work is about: our values, our commitment to social action, activist practice, social justice, anti-racism and anti-oppression work. Reflect that in your essay. Reflect that you are choosing Simmons because you know something about our program. To say that it's a clinical program doesn't really say that you know much about it. Show that you've done some due diligence and some homework. You're trying to show to us, the admissions reviewers, that you're a good fit for us, and that we, more important, are a good fit for you in terms of your training.
The Statement of Personal Intent should not be overly personal; you can connect your personal experience, but it has to be in the service of illustrating for us why you're choosing social work, as opposed to, say, psychology or getting a master's in counseling.
I think it's important that if you have a variable academic history, and if a lot of your courses that are related to, say, psychology or sociology or counseling are fair or poor, you should reflect in your statement of purpose some explanation about what happened. Let us know how we can make sense of your academic history, because we're really looking to assess if you are a strong enough student to successfully manage the rigors of this program. If you don't reflect on it, it leads us to wonder if you are a good fit for Simmons academically, and it may hurt your chances of being accepted.
References: ask for references from people who know you, who can speak to your strengths, who can speak to the gifts and skills that you would bring to the profession and into each live session. Do not ask friends, therapists, family members, or partners to write references, even if they are social workers. We don't find those to be credible references. They're too close to home, too personal. We want people who have knowledge of you in an expanded and deepened way through volunteering or professional experiences, not people who are connected to you personally.
[OnlineMSWPrograms.com] Finally, with more universities starting to offer online MSW programs, why should students consider Simmons University?
[Dr. Leeman] First of all, I think that what's important is that you're getting Simmons University; it just happens to be online. We are the oldest clinical school in the country; we have a prestigious heritage of preparing extremely well-trained clinical social workers. You can take another online program, but you will not get the curriculum, nor will you get the quality of teaching that you'll get at SocialWork@Simmons. Our full-time faculty are course designers, so you're getting the same courses as the on-campus students. You're also getting many of them as your live session instructors. In that sense, you're really getting the best that the School of Social Work has to offer any student. You are no different from an on-campus student, you just happen to be taking your courses online.
Not all schools can say that. At many schools, courses are taught by adjuncts, and we're looking to recruit only the finest, most seasoned, scholarly practitioners we can. Folks with extremely impressive credentials; people we know either through Simmons, or people we know through our colleagues. We are going to be extremely selective in who teaches our online students, because that is how we hire for the on-campus program as well, so the quality will remain the same.
Some online social work programs do not offer the live session, and the training is entirely asynchronous. We really believe that the live sessions are critical for developing relationships, for practicing skills, for feeling connected to the community, and for engaging with people and with the content in ways that will deepen understanding and enable students to put into practice what they're learning. Other programs don't have live sessions or don't offer a 90-minute live session.
Also, the quality of the asynchronous materials is superior to anything available on the market. It's professionally produced, creative, engaging, interactive, and stimulating. Other programs cannot boast the quality of the production values that we can.
Thank you Dr. Dana Grossman Leeman for your time and insight!
Last updated: April 2020